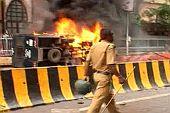 The Bombay high court on Thursday granted bail to one more accused in the Azad Maidan riots case observing that attending a rally is not an offence.
Akbar Raunak Khan is the fourth accused to be released on bail by the high court after it granted similar relief to Amin Chaudhary, Umair Rehman Ansari and Nazar Siddiqui, who suffered a bullet injury in his head in the violence, earlier this week.
Khan has been granted bail on a surety of Rs 30,000.

Khan, who had suffered a gun-shot injury on his waist, claimed in his bail plea that he had gone to the spot of the incident only to help the injured people.
"Going for a rally is not an offence. The applicant's (Khan's) detention is not necessary at this stage of investigation," Justice Thipsay observed.
Earlier, Justice A M Thipsay while granting bail to the three accused had observed that prima facie no offence of murder and attempt to murder is made out against them and their custody was not required.
A total of 63 people were arrested by the city Crime Branch for their alleged role in the riots at Azad Maidan in south Mumbai on August 11.
Two youths were killed and 52 others, including 44 policemen, injured on August 11 when a rally called to condemn alleged atrocities on Muslims in Assam and Myanmar turned violent with the protestors attacking police, media persons and damaging their vehicles.