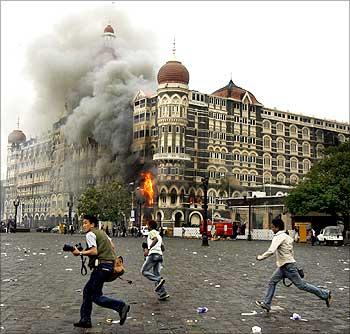 The Taj Mahal Palace and the Tower Hotel has thrown open the doors of its famous Japanese eatery Wasabi and the Harbour Bar, more than a year after the popular joints were destroyed in the 26/11 terror strike.
The Ratan Tata-owned hotel had quietly reopened Golden Dragon, its Sichuan restaurant, on December 1.
Wasabi, which reopened on Thursday along with the bar, will offer its guests the ever popular old menu, which gives a taste of exquisite and authentic Japanese culinary treasures, while the Harbour has extended its collection of wines and malts.
Executive Chef Hemant Oberoi and his team have also introduced 14 new dishes, including new kinds of sushi, salads, cold dishes as well as an authentic Japanese curry.
To complete the culinary experience, the restaurant has introduced 12 new varieties of the famous Japanese rice wine -- Sake and Japanese beers.
"Today, we have come one more step closer to fulfilling our promise of rebuilding the Taj to its former glory. Taj has always reinvented itself since it was born decades ago and this is what makes it the icon that it is," Taj Mahal Palace & Tower, General Manager, Karambir Kang said.
"The opening of Wasabi and Harbour Bar is an important milestone in the resurrection of The Taj Mahal Palace & Tower. We are delighted to reopen its doors for guests, old and new," Kang added.
The Harbour Bar, which has the distinction of being Mumbai's first licensed bar, is a perfect amalgamation of old world charm and contemporary sophistication clearly reflected in its evolved decor and creatively presented menu.
The 76-year-old bar had introduced almost 30 new whiskies from the 1930's and 40 single malts along with the best of wines from around the world.
A 'Global Tapas' has been introduced, with influences of flavours from Jamaica, South East Asia, the Middle East and even some Cajun delicacies.
The bar has added 20 new items to the menu, which includes uniquely presented items like Guacamole Panipuri with tamarind dressing, Crab samosas, Iberico ham with figs among many others.
The Taj had entrusted the Rockwell Group Europe, led by Diego Gronda to design the restaurants and make good of the damage caused by bullets and grenade blasts in it.
The Rockwell Group, Europe is a Madrid-based architecture and design firm that caters to clients in Europe, Africa and Asia.
Image: Photographers run past burning Taj Mahal Hotel during the gun battle in Mumbai on 29 Nov, 2008
Photograph: Arko Dutta / Reuters     Text: PTI