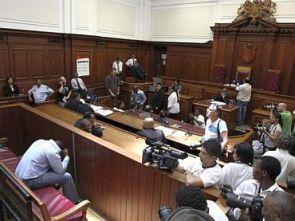 The extradition hearing of Indian-origin businessman Shrien Dewani, accused of plotting the murder of his Indo-Swedish wife during their honeymoon in South Africa, opened at court in London on Monday.
The 33-year-old is accused of involvement in the death of his 28-year-old wife, Anni, who was shot as the couple travelled in a taxi in Cape Town back in November 2010.
Hugo Keith QC, representing the South African government, began proceedings for the five-day hearing at Westminster Magistrates' Court by summarising the history of the case as Anni Dewani family watched from the public gallery.
Shrien was excused from attending the hearing but his father Prakash and brother Preyen were present in the court.
The accused is being treated for post-traumatic stress disorder and depression at a hospital in Bristol and his lawyers have reported fluctuations in the state of his mental health.
They have previously claimed that he would be a high suicide risk if extradited, and his human rights may be violated due to the risk of being violently attacked.
South African authorities have offered assurances that Shrien would be kept in a single cell if he returns, and therefore would be at less risk of attack.
In April, prosecutors said his condition had improved "significantly", but in May, the court was told he had suffered a relapse.
A judge must now decide if Shrien's mental health has improved sufficiently for him to be extradited or whether conditions in South African detention centres might breach his human rights given his current health.
Anni Dewani was shot when a taxi in which the couple were travelling was hijacked in Gugulethu.
Shrien and driver, Zola Tongo, were ejected from the car before Anni was driven away and killed.
She was found dead in the back of the abandoned vehicle with a bullet wound to her neck.
In 2012, Xolile Mngeni was convicted of premeditated murder for shooting her.
Prosecutors claimed that Mngeni was a hitman hired by Shrien to kill his wife, something that he has consistently denied. Driver Tongo was jailed for 18 years after he admitted his part in the crime.
Another accomplice, Mziwamadoda Qwabe, also pleaded guilty to charges over the murder and was handed a 25-year prison sentence.
Both Tongo and Qwabe have claimed Shrien was involved in planning the murder.
Image: Taxi driver Zola Tongo covering his face while awaiting the start of his trial for the murder of Anni during her honeymoon visit to South Africa, at the Western Cape high court in Cape Town.

Photograph: Reuters