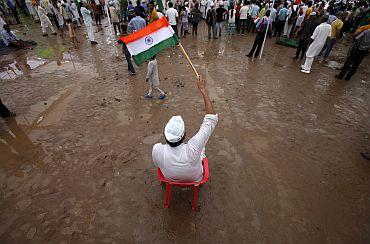 Amidst speculations that the number of protestors at the Ramlila Ground in Delhi will dwindle at the end of the extended weekend, people turned up in large numbers on Tuesday to support Anna Hazare who is on an indefinite fast to press for a stronger Lokpal Bill.
On the overcast morning on Tuesday, it did look for sometime that people would not turn up as expected, but by evening, the ground was filled to capacity.

Children dressed in school uniforms, men dressed in their official suits, college students with their bags, housewives with their children -- they were all there. Even heavy rains in the early noon did not dissuade the protestors who turned up at Ramlila Maidan as 73-year-old Anna Hazare's fast entered its eighth day.

As many as three tents collapsed in the rain at the ground, but undeterred protestors kept at it. Many came out of the collapsed tents to dance, even as the ever efficient India Against Corruption volunteers tried to find alternate shelters for them.

A visibly weak Anna Hazare addressed the crowd, as the expectant protestors chanted for his speech. Speculations were rife amongst the supporters, who feared the Gandhian's health was deteriorating.
Atleast 38 hours had passed since he had last addressed the crowd. As soon as the crusader took the microphone, he thundered, "Bharat Mata ki Jai," much to cheers of relief from the crowd.

Hazare said that his health was fine and joked that his doctors would not let him die.

"Even if I die for this cause, don't let the movement die. We all want a corruption-free India," Hazare said.

Reiterating the need for sticking to Gandhian tool of non-violence, the anti-corruption crusader said that it was a very powerful tool.

"Last week, a group of people came here drunk and created a ruckus. I appeal to you to not malign this movement. Don't come here drunk. In any case, drinking and smoking is not good for you," Hazare said.

Assuring the crowd that his health was fine, Hazare asked the people to intensify their protests if the government failed to pass the Jan Lokpal Bill by August 30.

"If the government does not pass the bill by August 30, thousands of people should gherao the residences of MPs. But do not bring violence in your protest, because if you do, the government will use its violence to crush you," Hazare said.

It started raining heavily at the protest site in early noon. People protesting at patches on the grounds without overhead shelters stood their ground, with some of them breaking into a dance.
As three tents collapsed, volunteers were seen directing protestors to shelters, even as some preferred to stay in the rain and dance.

Aslam Parvez, a second year student at Hindu College, said, "I attended the first lecture in college today, but I got SMSes from friends about the excitement here. After the lecture ended, I rushed here to show my solidarity. I am fasting anyway, and as much as it is for Islam, it is also for my country. To show my solidarity to Anna Hazare, the only time I eat is in the evening. I don't have my dinner or the early morning snack."

Large pools of ankle-deep water formed at different sites of the ground. It became difficult to walk across the grounds, even as volunteers tried to clean up the water.

In the evening, when Hazare aide Arvind Kejriwal announced that the government had appointed Finance Minister Pranab Mukherjee to hold talks with Team Anna, he could not speak for almost 20 seconds as the crowd went wild with cheering, applause and chants of Vande Mataram and Anna Hazare.

Security was also increased as the day progressed and saw more and more supporters pour in post office and college hours.

"In the morning, we had posted about 1,500 officers for the event. By evening, as more people poured in, we increased it to 3,000. Many constables had been instructed to observe the crowd as we had information that unscrupulous elements would join the protests," said a police inspector at the entrance of the ground.


Image: A supporter of Anna Hazare waves the national flag on the eighth day of Hazare's fast at Ramlila grounds in New Delhi
Photograph: Adnan Abidi/Reuters