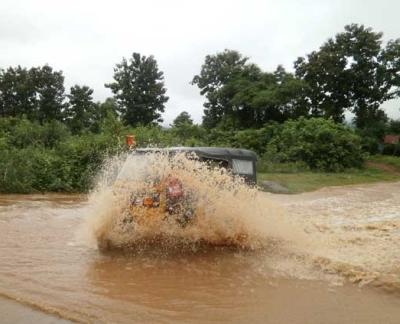 Incessant rains lashing Andhra Pradesh for the last five days have claimed 42 lives so far in various rain-related incidents like wall collapse and inundated crops in about eight lakh hectares, official sources said on Sunday.
Five persons were also missing in the wake of heavy rains, triggered by a low-pressure area and northeast monsoon, and floods, the sources said. They said 84,769 people have been evacuated to safer places and 225 relief camps set up so far to provide shelter and offer help.
Nineteen teams of the National Disaster Response Force have been deployed in various districts for rescue operations. The state government has deployed 580 medical teams to provide aid to the victims of heavy rains.
The downpour caused inundation of standing cotton, paddy, maize, groundnut, sugarcane, redgram, tobacco and also horticulture crops in as many as 7.99 lakh hectares, they said.
The heavy rains led to breaches to 1,020 minor irrigation tanks and damaged roads in 4047.50 kms. The massive rainfall left normal life paralysed in
several parts of the state with water inundating low-lying and vulnerable residential areas, disrupting public transport and causing massive damage to agriculture fields.
Several rivers like Vamsadhara, Bahuda in Srikakulam and a number of rivulets were in spate following heavy rains. According to a report from Visakhapatnam, the heavy rains have brought transportation, power supply and communication services to a grinding halt in many areas of the north coastal districts of Srikakulam, Vizianagaram and Visakhapatnam.
Rains caused waterlogging on the railway tracks at various places between Visakhapatnam and Vijayawada resulting in cancellation, diversion of various trains, it said.
According to official sources, heavy rainfall continued to be reported at several places in the coastal districts of Visakhapanam, Vizianagaram and West Godavari on Sunday. They include Kannuripalem -- 276 mm, Pasupatirega -- 213 mm, Kasimkota -- 190 mm, Anakapalle -- 183 mm, Peddatadepalli -- 180 mm and S Kota -- 155 mm.
Meanwhile, a report from Vijayawada said that the first flood warning in river Krishna continued with heavy inflows from local streams below Nagarjunasagar and above the barrage at Vijayawada. Irrigation officials said water level at Krishna dam at Vijayawada at noon was 12.6 ft and 4,28,120 cusecs of floodwater was being discharged downstream to the sea.
Officials also warned people in the low-lying areas on both sides of the river and around the dam to shift to safer places in view of heavy inflows in the river. The officials clarified that the outflow from Nagarjuanasagar to downstream was only 35,775 cusecs but the local streams like Musi, Paleru, Munneru, Budameru and Kondaveedu were bringing huge flood water into Krishna. They are also expecting the water to recede by Sunday evening with there being no rains in the catchment areas of Krishna. Because of the flooding, communication to several villages has been cut off and revenue officials have undertaken massive rehabilitation works there, sources said.
In Rajahmundry, District Collector Neetu Kumari Prasad is visiting the rain-affected areas with officials and monitoring the situation and taking all necessary steps. "The district administration is fully geared up in view of the heavy rains here for the past five days. All precautionary measures are taken to prevent human and animal loss in the district. Officials are monitoring the situation at irrigation sources, tanks, rivers, rivulets. Home guards has been posted at national highway to monitor any breaches caused to roads," she said.
The rivers and rivulets in Konaseema of East Godavari district are in spate following heavy rains since Saturday. Kirlampudi and Gollaprollu mandal were submerged while seven colonies in Gollaprolu mandal were under deep water and people living in low-lying areas were shifted to safer and places and relief camps.
So far, 51 relief camps has been set up in 33 mandals of the district. About 10,000 people in Rowthulapudi and Kotananduru were shifted to 30 relief camps, Prasad said.

Photograph: SnapsIndia