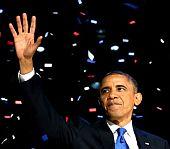 Signifying the arrival of the three million-plus community at the national stage, the first ever Indian-American inaugural ball to celebrate the re-election of the US President Barack Obama would be held in Washington two nights before he takes the oath of office for his second term.
"Join the world's oldest and largest democracies in congratulating President Barack Obama as he is sworn in to his second term as President of the United States. Leaders from the 3-million-strong Indian American community, compatriots from India and American well-wishers will celebrate the combined achievements of the two nations and cultures," organisers of this 2013 Inaugural Ball have announced.
Christened the 'Indiaspora Ball', the first ever presidential inaugural ball of its kind is expected to be attended by who's who of the community from across the country. Tata Consultancy Services, US India Business Council and North American South Asian Bar Association have partnered with the organisers, the recently formed Indiaspora.
"The Indiaspora Inaugural Ball will be more than just a great party," argued M R Rangaswami, Indiaspora founder.
According to him, the event will serve as a catalyst for an institutionalised approach that supports Indian American candidates at all levels of US government regardless of party affiliation, a process for raising the awareness and resources needed to take care of the underprivileged and "invisibles" in the community..
It will also be a kick-start for Obama's second-term "strategic partnership" with India, shaped with input from key "India oriented" think tank leaders from both sides; a strong commitment from the latter that reform policies will be carried through before their next election and an effective set of philanthropic models, to be served as a bridge between the two countries, that can be used to channel donations of money, services and time.
Founded this year, Indiaspora hosted 100 influential Indian American leaders as part of its first Forum in September, 2012. Organisers of the inaugural ball said that many senators, Congressmen and policymakers are expected to attend the event.