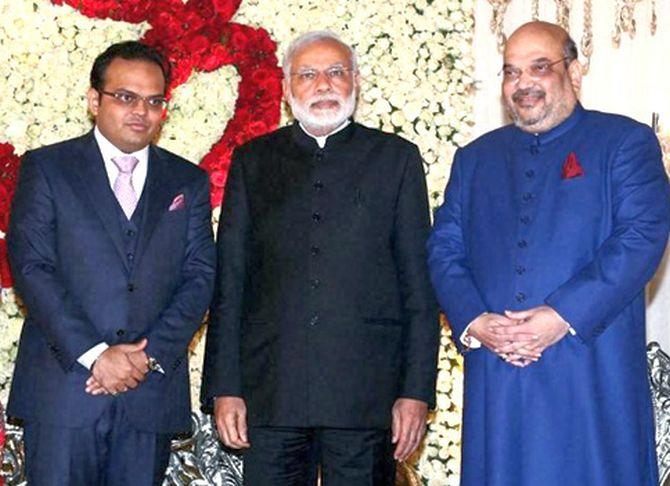 IMAGE: Jay Shah poses with Prime Minister Narendra Modi and his father, BJP chief, Amit Shah at his wedding reception. Photograph: PTI Photo
Jay Shah, son of Bharatiya Janata Party national president Amit Shah, will be filing a criminal defamation suit against news website 'The Wire' for alleging that Jay's company posted a massive turnover in 2015-16, informed BJP leader and Union Minister Piyush Goyal on Sunday.
Addressing a press conference in New Delhi, Goyal said, "Mr Jay Shah will file a criminal defamation suit of Rs 100 crore against author (of article), editor and owner of news website The Wire."
"The article makes false, derogatory and defamatory imputation against me by creating in the minds of right-thinking people an impression that my business owes its 'success' to my father Shri Amitbhai Shah's political position
"My businesses are fully legitimate and conducted in a lawful manner on commercial lines, which is reflected in my tax records, and are through banking transactions," Shah's son said in a statement.
"We reject any allegations sought to be made against Mr Jay Shah or any of our leaders. Mr Jay Shah will file a civil and criminal prosecution for defamation in the Ahmedabad court," he added.
The BJP leader further said that the article is written to damage the reputation of party president Amit Shah.
A report, written by Rohini Singh in 'The Wire', details the growth of Jay Shah's company, Temple Enterprise Private Ltd, from 2014-2015 to 2015-16.
"All loans taken (by Jay Shah) were in accordance with the law and were paid back with full interest, well within the time limit," said Goyal.
Earlier in the day, opposition parties sought a probe after the report emerged on the website.
Training their guns at the Modi government by citing the news story's content, the Congress, the Left and the Aam Aadmi Party demanded an investigation, with Congress leader Kapil Sibal alleging that it was a case of "crony capitalism".
Communist Party of India-Marxist's Sitaram Yechury claimed that it is the latest in a series of cases of corruption under the Modi government.
"Today, we ask a question to the PM, the pradhan sevak ... Now, what do you have to say about crony capitalism? Will you give direction to the Central Bureau of Investigation to probe the matter? Will you ask Enforcement Directorate to arrest these people," Sibal asked at a press conference.
To a query whether there was any wrongdoing, Sibal said, "I am talking about crony capitalism. Offence will come to light when we get to know why the loan was sanctioned. We know who the CBI and ED will investigate and who the agencies will not investigate. Issue is whether the prime minister is honest enough to say that investigate son of Amit Shah."
Attacking Modi, Yechury tweeted, "Latest in the series of corruption cases under Modi. Birla-Sahara Dairy, GSPCL, Vyapam, Lalit Modi, rice and mining scams. Why is PM silent?"
CPI leader D Raja demanded a "high level SIT probe monitored by the court".
The Aam Aadmi Party also demanded a probe into allegations and said a criminal probe should be started.
-- With inputs from PTI