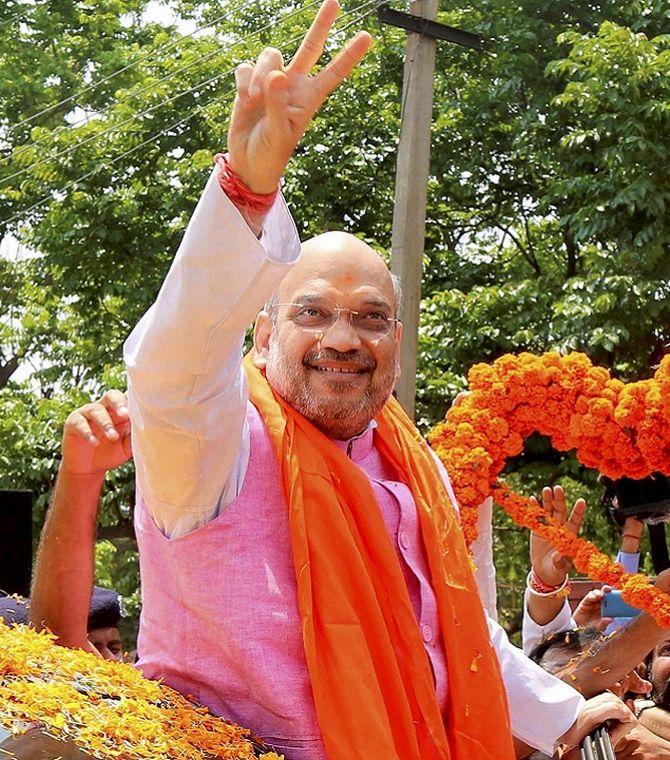 Bharatiya Janata Party president Amit Shah is set to make his debut as a member of Parliament with the BJP parliamentary board on Wednesday announcing him as it candidate for the August 8 Rajya Sabha elections from Gujarat.
The board, whose meeting was attended by Prime Minister Narendra Modi, Shah and other members, also re-nominated Smriti Irani for the second of three seats going to the polls in the BJP bastion, senior party leader J P Nadda told reporters.
A five-term MLA from the state, Shah's entry into the Upper House will be a boost for the saffron party, which remains in a minority in the Rajya Sabha.
Shah will leave for the state on Thursday and is likely to file his nomination on Friday.
Both the BJP candidates are set for an easy win due to the big majority the party enjoys in the state assembly and there is probability that it may support a candidate for the third seat to make it difficult for the opposition Congress to retain its one seat.
Senior Congress leader Ahmed Patel is currently the MP from the state and his party is likely to re-nominate him.
The BJP hopes that it can ally with Shankersinh Vaghela, who has left the Congress, to get support from the MLAs loyal to him.
The parliamentary board also named Sampatiya Uikey, a tribal leader from Madhya Pradesh, for the by-poll being held following the death of Anil Madhav Dave.
The terms of nine Rajya Sabha members from Gujarat and West Bengal are ending on August 18. These include Irani, Communist Party of India-Marxist general secretary Sitaram Yechury and Trinamool Congress leader Derek O' Brien.
Out of the nine retiring members, four are from the Trinamool Congress, two from the Congress, two from the BJP and one from the CPI-M.
The retirement of Ahmed Patel (Cong), Dilipbhai Pandya (BJP) and Irani (BJP) -- all from Gujarat -- is due on August 18.
The tenure of members from West Bengal -- O'Brien (TMC), Debabrata Bandhopadhyay (TMC), Pradip Bhattacharya (Cong), Yechury (CPM), Sukhenduhakhar Roy (TMC) and Dola Sen (TMC) ends on August 18.