Over 800 Indians were evacuated from strife-torn Yemen on Saturday where the situation has deteriorated significantly due to escalation in fighting between warring groups.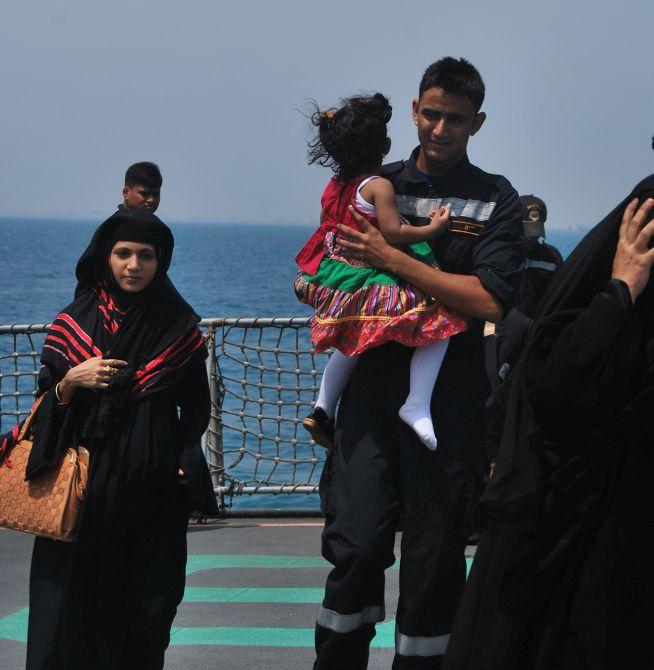 With today's evacuation, India has so far taken out 1,800 of its citizens from the country.
Minister of State for External Affairs V K Singh, who was overseeing the massive evacuation operation from Djibouti, had also gone to Sana'a, the largest Yemeni city from where Air India rescued Indians after getting permission to land. Singh has come back to Djibouti on Saturday.
Meanwhile, Navy ship INS Mumbai sent to evacuate Indians from Aden could not dock at the city port due to heavy shelling and small boats were used to ferry the people to the ship.
"There is heavy shelling in Aden. The ship is anchored 5-6 kilometres off the coast. Indian nationals are being taken by boat to board the ship there," External Affairs Minister Sushma Swaraj said.
Official sources said the evacuation operation was going on notwithstanding the deteriorating situation across Yemen. "We hope to complete the evacuation operation in the next few days," they said.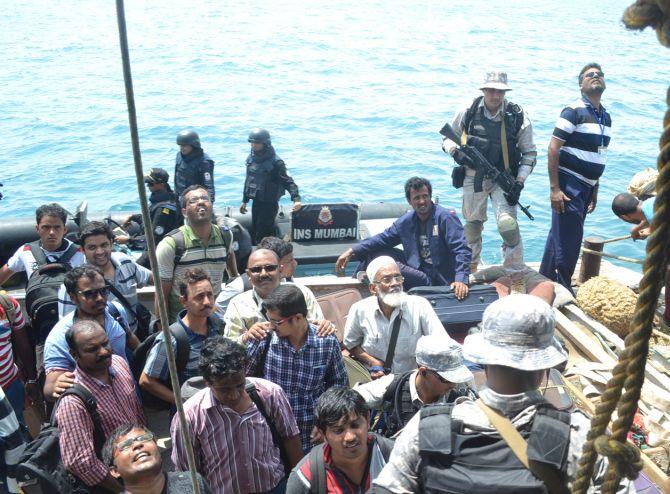 The sources said though security situation was becoming more precarious in Sanaa due to increasing hold of Al Qaeda, India has been given slots to carry out air sorties to take out its citizens from the city.
"Maximum slots to carry out air sorties have been given to India. We were given two slots yesterday and two slots today. We hope to continue the evacuation from Sana'a."
They sought to allay fears of kidnapping of Indians in Yemen, asserting that the situation was not like that in Iraq.
The sources said Indian Navy ship Tarkash and two other commercial ships are also available for evacuation of Indians from port cities including from Al-Hudaydah.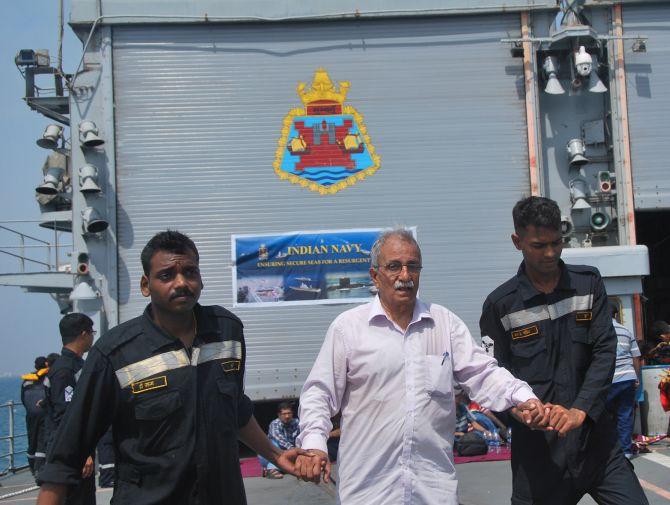 They said India had rescued two Nepalese and three nationals each of Bangladeshi and Pakistan also from Al-Hudaydah city two days back.
External affairs ministry spokesperson Syed Akbaruddin said over 300 Indians have been brought back from Sana'a and reached Djibouti enroute to India.
"Two Air India flights out of Sana'a land in Djibouti today with 325 on board," he tweeted. He also tweeted that about 800 Indians were evacuated today.
The sources said situation in Sana'a was serious as militants have stepped up their offensive and particularly due to movement of heavy artillery and missiles during nights.
Photographs: Indian Navy