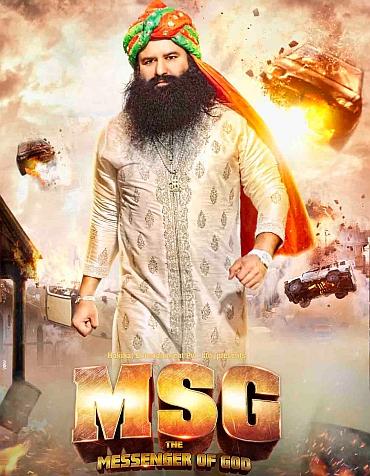 Even as the home ministry sent out alerts to states over Dera Sacha Sauda chief Gurmeet Singh Ram Rahim's movie, Messenger of God, the Censor Board has refused to certify the film taking exception to the spiritual leader depicting himself as god on the silver screen.

According to media reports, the home ministry had alerted the state governments that groups that are against the Dera can spread violence and law and order can become a problem in both states.

The movie, scheduled to release on January 16, has the controversial Dera chief -- who is facing cases of sexual abuse and murder -- in the lead role and portrays him as a swashbuckling hero fighting "social evils" in flashy costumes.

While the trailer has already garnered over a million hits on the popular video sharing site, YouTube; the same does not seem to be appealing to the authorities. Most of the board members showed concerns with the actor and Godman Baba Ram Rahim Singh doing miracles and performing acts to cure diseases in the film.

Earlier in the day, the revising panel after referred the movie to a tribunal after watching it.

"It is highly controversial and can hurt sentiments of people, though in terms of graphics it is an amazing movie," board member Nandini Sardesai told NDTV,
adding, "If a Batman or a Superman had done these stunts, we would have appreciated it, but he is a public figure and we cannot clear this move, so referring it to a tribunal."
However, the spokesperson for MSG has strongly condemned the argument saying that the promo of the film clearly shows the Godman mentioning that he is a normal human being. Further, to support his stance, the makers have claimed that Guruji has done what other actors do in a film i.e. fighting the evils of the society.
Meanwhile, various Sikh groups are planning protests against the Dera chief's "glorification".
Punjab's ruling Shiromani Akali Dal, part of NDA government at the Centre, is believed to be opposed to the Dera chief.
The BJP is an alliance partner of Akali Dal in Punjab government.
The Dera chief also had a running battle with the Akal Takht, the highest temporal seat of Sikh religion, after newspapers had carried his photo in an attire of Sikh guru Govind Singh some years ago. The Akal Takht had accused the Dera chief of blasphemy and Sikhs and Dera supportets had fought street battles in the wake of that incident.