US Congressman's father was convicted for making illegal donations to his son's campaign coffers.
Rediff.com's Ritu Jha reports from California.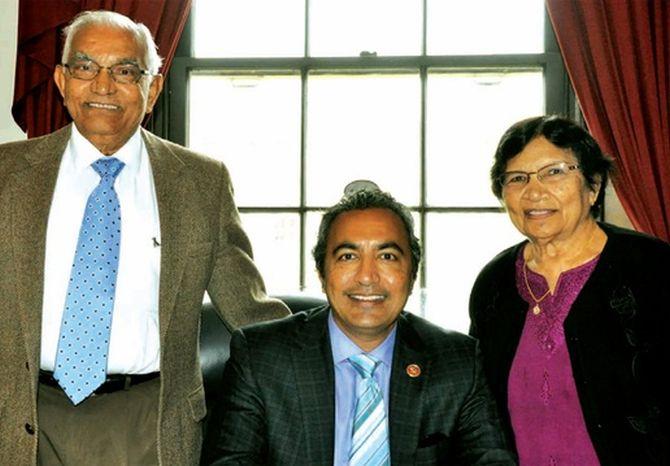 Babulal Bera, US Congressman Ami Bera's 83-year-old father, was sentenced to 12 months and one day in federal prison by Judge Troy Lynne Nunley of the United States District Court for the Eastern District of California, August 18.
Babulal Bera was charged with making an excessive contribution to his son's campaign and also with making campaign contributions in other people's names.
The octogenarian was not taken into custody, the court clerk at the Eastern District of California in Sacramento told Rediff.com
The court ordered Bera to surrender to the authorities on November 18.
A chemical engineer, Bera came to the US from Gujarat in 1958.
Judge Nunley also ordered that Bera, on his release from prison, be placed on supervised release for 36 months.
He was also ordered to pay a special assessment of $200 and a fine of $100,000.
Court documents stated that Bera utilised people across the country on a repeated basis and over the course of two elections to help his son Dr Bera, a candidate for a seat in the United States Congress representing California Congressional seats District 3 (2010) and District 7 (2012).
Dr Bera currently represents California's Congressional District 7 and is seeking re-election in November.
The court documents stated that Dr Bera received funds which were illegal contributions provided by his father.
Babulal Bera did not merely reimburse relatives who wanted to contribute, the court documents stated. He reached out to individuals in New Jersey, Pennsylvania and Illinois among other states, and encouraged them to participate in his scheme.
He recruited bundlers to whom he provided as much as $25,000, and encouraged them to bring others into his scheme. In doing so, the court documents stated he was exerting considerable influence over members of his community and making them complicit in his crime.
Bera Sr orchestrated at least 130 improper contributions, the documents stated.
Between May, 11, 2009 and August 20, 2010 Bera and his wife Kanta Bera contributed $225,000 to his son's campaign committee. Beginning 2009 until 2010 they in full or part reimbursed contributions others made either in the form of funds or through a third party.
Congressman Bera has denied any knowledge of his father's actions.
After the sentencing, Dr Bera released this statement: 'This is one of the most difficult moments my family has ever experienced. My dad is 83 years old and my mom is 82 and Janine (the Congressman's wife Dr Janine Bera) and I are worried about both of my parents.'
'Of course, I'm absolutely devastated and heartbroken for how today's decision will impact our entire family,' the Congressman added. 'But my father has accepted what he did was wrong, he's taken responsibility, and I love him more than words can express.'
Reacting to Babulal Bera's sentencing, Robert Longer, California Democratic party delegate and legislative director for the Communications Workers of America, asked Congressman Bera to "resign immediately. He is unfit to serve."
"He knew what was going on," Longer alleged, "and let his 83-year-old father take the fall for him. How can he let him do this?"
"My first thoughts when I learned about it months ago," Longer said, "was that there was no way in my mind that Dr Bera was not involved in this."
"Dr Bera is a smart man. I know him personally and have had him at my home. I have worked with him and know he is a sharp and an intelligent man," Longer added. "In my mind there is no way at all that he had no idea that his father was engaged in illegal activity. So what I am saying is he is complicit."
Babulal Bera's sentencing may impact the vote in November. Dr Bera faces Sacramento County Sheriff Scott Jones, a Republican, in the November 8 election.
'The District Court gave thorough and thoughtful consideration to the arguments of both parties in imposing sentence,' Acting United States Attorney Phillip A Talbert said in a statement. 'That sentence, which is significant given this defendant's age, sends a clear message that campaign finance crimes are serious offenses that will result in real consequences.'
'In imposing the sentence recommended by the government, the court balanced the serious nature of Bera's offence with the defendant's advanced age and associated health issues. The court said the defendant's conduct was calculated and cuts to the heart of the integrity we expect of elections,' Talbert added.
'Mr Babulal Bera knew the law when it came to campaign contributions, but he tried to beat the system using straw donors,' Monica Miller, special agent in charge of the FBI's Sacramento field office, said in a statement.
'His sentence,' Miller added, 'demonstrates that the US government takes these crimes seriously and will spare no effort to defend the integrity of the electoral process which is the foundation of American democracy.'
IMAGE: Kanta and Babulal Bera with their son United States Congressman Dr Ami Bera.