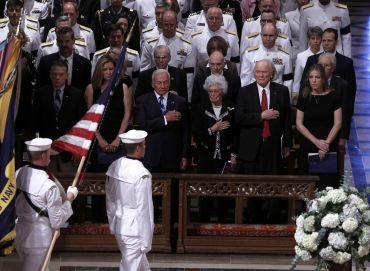 Hundreds of mourners turned out on Thursday to remember Neil Armstrong, the first man to step on the Moon, at a special public interfaith meeting ahead of the planned burial at sea.
Armstrong, 82, died on August 25 after complications resulting from cardiovascular procedures.
The meeting held at the Washington National Cathedral was attended among others by Armstrong's Apollo 11 crewmates Buzz Aldrin and Michael Collins.
The public memorial in Washington precedes Armstrong's burial at sea, to be conducted by the US Navy on Friday.
Details of his ocean interment were not released, though US
President Barack Obama ordered flags be flown at half-mast to mark the day of the ceremony.
The memorial service at the cathedral also brought together dignitaries, community and political leaders, Armstrong's family members, and members of the NASA family, including current and former astronauts.
Armstrong commanded the Apollo 11 spacecraft that landed on the moon July 20, 1969, and was the first astronaut to exit the spacecraft. He was followed to the lunar surface by Aldrin.
"That's one small step for (a) man, one giant leap for mankind," Armstrong had said at the time.
In between the tributes and readings, musicians also dedicated performances to the late Armstrong. Canadian jazz pianist Diana Krall sang "Fly Me to the Moon" as arranged by Frank Sinatra.
The Metropolitan Opera Brass, the US Navy Band "Sea Chanters," and the Cathedral Choristers also performed pieces, including "America the Beautiful."
The ceremony is expected to close with Bolden's presentation of an American flag to Carol Armstrong, the astronaut's widow.
Armstrong's family earlier gathered for a private service on August 31 in Cincinnati, Ohio. The family also established the "Neil Armstrong New Frontiers Initiative," a memorial fund for the Cincinnati Children's Hospital Medical Center, Fox News reported.
In July 1974, Armstrong, Collins, and Aldrin donated one of the moon rocks they brought back to Earth to the National Cathedral. A sliver of that same lunar rock is now on display there, embedded in a stained glass window that pays tribute to their historic moon landing.
Photograph: Christina Korp (2nd L), astronaut Buzz Aldrin (3rd L), astronaut John Glenn (2nd R), his wife Annie Glenn, and singer Diana Krall (R) watch an honour guard pass during a tribute to US astronaut Neil Armstrong during a service at the National Cathedral in Washington.
Credit: Gary Cameron/Reuters