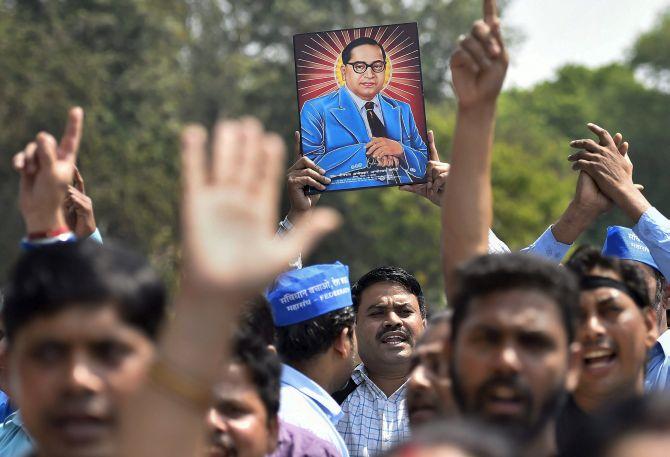 Union Minister Ramdas Athawale on Friday condemned an alleged plan by Maoists to target Prime Minister Narendra Modi, but said the Elgar Parishad and subsequent violence at Bhima-Koregaon near Pune had no Naxal connection.
Followers of Dalit icon Dr B R Ambedkar can never be Naxals, Athawale, a prominent Dalit leader, said in a statement in Mumbai.
Several Dalit activists were among the organisers of Elgar Parishad held in Pune.
"We condemn the anti-national elements hatching such a conspiracy," Athawale said, referring to the Pune police's claim that Maoists were planning to carry out a 'Rajiv Gandhi-type incident'.
Former prime minister Rajiv Gandhi was assassinated in May 1991.
Modi is following 'sab ka saath, sab ka vikas' policy to build an India as contemplated in the Constitution, and it was 'wrong' to accuse him of working to strengthen a particular religion, Athawale said.
'Ambedkarites were attacked at Bhima-Koregaon. No Naxal was involved in the Maharashtra bandh which was called to protest the attack. Nor was there any Naxal in the Elgar Parishad,' Athawale said.
Action should be taken against those arrested for alleged Naxal links if there was evidence, he said.
'Ambedkarites can never be Naxals and Naxals can never be Ambedkarites. I will speak to Chief Minister Devendra Fadnavis if there are any genuine Ambedkarites among those arrested,' the minister said.
Meanwhile, the Congress on Friday demanded a thorough and fair probe into the Bhima-Koregaon violence after five activists with alleged Maoist links were arrested in connection with it, and said the Bharatiya Janata Party's 'doublespeak' on the matter had been exposed.
Congress communications in-charge Randeep Surjewala said that 'BJP's duplicity and doublespeak exposed again in Bhima-Koregaon', citing the remarks of Athawale.
"Union Minister Ramdas Athawale calls arrests of Dalit activists as 'injustice' and says 'no relation of Elgar Parishad with violence'. Maharashtra government describes them as 'Maoist operatives'. Who is lying?" he asked.
"A fair investigation, bereft of politics, is the need of the hour," Surjewala said.
He said Athawale had also called for the arrest of Rashtriya Swayamsevak Sangh acolyte Sambhaji Bhide, whom the prime minister visited in 2014 and praised in a public rally in Sangli.
"Is this the reason why Maharashtra government is not acting against Bhide and Milind Ekbote?" he asked.
The Congress leader also said that terrorism, Naxalism and extremism were unacceptable as no one knew it better then the Congress, which sacrificed Mahatama Gandhi, Indira Gandhi and Rajiv Gandhi, besides Beant Singh, V C Shukla and Nand Kumar Patel among others.
Congress spokesperson Shaktisinh Gohil cited Athawale's theory that Dalits cannot indulge in such violence and said the National Democratic Alliance should first clarify which theory is right.
"The cabinet works with collective responsibility. Athawale is giving a different theory while the police inquiry is giving a different theory, which the union minister is rejecting. So NDA should first clarify who is right, the police or the minister," he asked.