The immense clout of the Ambanis was on full display on the occasion of the first death anniversary of Dhirubhai Ambani, the founder of the Reliance Group of Industries, on July 6.
A jamboree of politicians, industrialists, celebrities and bureaucrats thronged the National Centre for the Performing Arts in Mumbai on Sunday to attend the first Dhirubhai Ambani Memorial Lecture that was delivered by President A P J Abdul Kalam.
The guest list read like a veritable who's who. Anyone who was someone was there. The heavy downpour that would normally have kept entire Mumbai indoors could not even begin to dampen the spirits of the glitterati at NCPA.
Apart from the brightest star of the function, Kalam, who charmed the gathering with a speech delivered in his inimitable and endearing style, there were many other sparkling personalities at the NCPA.
Speakers who paid rich tributes to Dhirubhai Ambani included Divestment Minister Arun Shourie, HRD Minister Murli Manohar Joshi, Maharashtra Chief Minister Sushilkumar Shinde, Gujarat Chief Minister Narendra Modi, Madhya Pradesh Chief Minister Digvijay Singh, leader of the opposition in the Rajya Sabha and former finance minister Manmohan Singh, Maharashtra Deputy Chief Minister Chhagan Bhujbal, and Samajwadi Party president and former defence minister Mulayam Singh Yadav.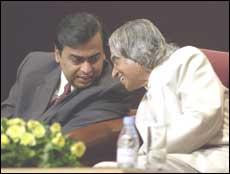 The Ambani family was present in full force. Nita Ambani, wife of Reliance Chairman Mukesh Ambani, and Tina Ambani, wife of Reliance Vice-Chairman Anil were present, along with the rest of the Ambani clan.
There were some celebrities from the film world too. Bollywood superstar Amitabh Bachchan compered the function.
Also present were former Mumbai Congress I chief Murli Deora, Congress Rajya Sabha member Kapil Sibal, Samajwadi Party general secretary Amar Singh,
Aditya Birla Group chairman, Kumaramangalam Birla, RPG Group chairman Harsh Goenka, Securities and Exchange Board of India chairman G N Bajpai, Industrial Development Bank of India chairman P P Vora, Reserve Bank of India deputy governor Rakesh Mohan, and Kotak Mahindra vice-chairman Uday Kotak, and J M Morgan Stanley chairman Nimesh Kampani were also among those at the function.
Once a film star and now India's Minister of State for External Affairs Vinod Khanna attended the lecture with his wife Kavita. Writer and columnist Shobha De and her husband Dilip, and former Mumbai police commissioner Julio Rebeiro too were present.
Listing out the contribution of the late industrialist, the Maharashtra chief minister said that Dhirubhai Ambani was a visionary, who saw beyond the ordinary. Shinde also said that Ambani had rare vision and shown a path to the future generations of entrepreneurs.
He said the state government has decided to observe Dhirubhai's death anniversary as 'Young Entrepreneurs' Day.'
Narendra Modi, paying tributes to Dhirubhai, said, "Just yesterday (on July 5), the waters of the river Narmada had reached the village Chorwad (in Gujarat) -- the birthplace of Dhirubhai Ambani."
He said the people of Gujarat are beholden to the Ambanis for the help and support that they have provided.
Manmohan Singh said wealth-creation led to nation building and Dhirubhai had played a crucial role in helping create wealth for millions of shareholders.
Digvijay Singh described Ambani one of the three pioneers of industrial growth in India, along with J R D Tata and G D Birla. He said that Ambani had the flexibility to change with times and move with them.
He touched upon Dhirubhai's concern for India's agricultural sector and said this one quality set him apart from other capitalists and industrialists. He also urged that Dhirubhai be conferred India's highest civilian honour, the Bharat Ratna.
Maharashtra Deputy Chief Minister Chhagan Bhujbal, Samajwadi Party president Mulayam Singh Yadav also spoke on the occasion, paying rich tributes to Dhirubhai.
Dhirubhai's sons, Anil and Mukesh Ambani, recalled their father's dream of translating India into an economic superpower and his struggle to achieve the goal.
The gathering was impressive enough to do justice to Dhirajlal Hirachand Ambani, who rose from humble beginnings to found India's largest industrial empire and become one of the world's richest men.
From the number of industrialists present on the occasion, it was clear that the late 'Polyester Prince' continues to inspire a new generation of entrepreneurs with his tales of gumption and determination.
Although it was a somewhat sombre occasion, marked by attentive silence and muted reflection, the function seemed suffused with the Reliance group's grit: the dedication and promise to keep achieving greater heights of excellence and growth. Indeed, true tribute to one of India's greatest entrepreneurs.