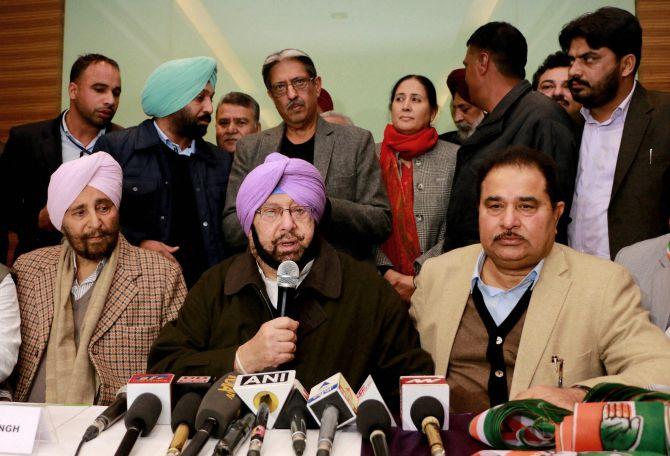 Punjab Congress chief Amarinder Singh on Tuesday trashed Aam Aadmi Party convener Arvind Kejriwal's charge that he was fighting from Parkash Singh Badal's home turf of Lambi to help the Punjab chief minister win, and challenged him to enter the electoral contest in the constituency.
He also ruled out an alliance with any party, even as he said that Congress President Sonia Gandhi would decide on the chief ministerial face for the assembly polls and no "deal" has been struck with new entrant Navjot Singh Sidhu.
"The Congress will win the elections on its own. We will get clear majority," he told reporters Chandigarh.
He said his decision to contest from Lambi "was motivated by his desire to save the people of Punjab from the Badals".
He described Lambi as his 'karambhoomi' from where he would "teach" the Badal family a "lesson for the savagery and atrocities" they had allegedly unleashed on the people of Punjab over the past 10 years.
Dismissing Kejriwal's charge as ludicrous, Amarinder said, "First he said I should fight Badal and now he says I'm helping the chief minister by contesting against him."
He also challenged the Delhi CM to take on Badal from Lambi. "Kejriwal will know his position and where he stands," he said.
Asked if Sidhu would be offered an important post if the party wins the assembly polls, Amarinder said "There is no deal with Navjot Sidhu. The Congress doesn't do deals with anybody."
"He has never said anything like that (there has been no talk in this regard with Sidhu)," he added.
Asked if he would be the CM candidate, Amarinder said, "I don't know, that is Congress President's decision."
"The entire campaign is being handled by me and then you are asking me this question," he added in a lighter vein.
Sidhu's role, and his own, would be decided by the Congress high command, said Amarinder, adding that he and the cricketer-turned-politician would be campaigning for the party through a joint road show in Amritsar on January 19.
He reiterated that Sidhu would be a star campaigner for the Congress in the Punjab polls.
In response to a question, Amarinder said that he could not be present in New Delhi for Sidhu's joining of the Congress as he was busy campaigning in Punjab.
He cited his strong Patiala connection with Sidhu, whom he said he had known since he was a kid, to make it clear that there was no tension between him and the ex-cricketer, who had joined the Congress unconditionally.
Amarinder also said the former Bharatiya Janata Party MP himself had stated that he was a "born Congressman".
"I know Sidhu's family for a very long time. I have been watching Navjot Sidhu since his youth when he used to play cricket at Patiala. He has himself described his joining the Congress as his 'ghar vapsi," he said.
Responding to a wide range of questions from mediapersons before setting out to file his nomination papers from Patiala, Amarinder asserted that both Patiala and Lambi were important constituencies for him and a decision on which one he would quit, if he won both, would be taken at an appropriate time.
He, however, made it clear that the development of Patiala would remain high on his agenda and if the Congress formed the next government, it would allocate funds and revive the Patiala development authority for the welfare of the region.
In response to a question, Amarinder said his wife and sitting MLA Preneet Kaur, who had made way for him in the assembly polls under the 'one-family-one-ticket' rule, would be contesting in the parliamentary elections.
The Punjab Congress Committee chief also dismissed any serious threat from former Army chief General J J Singh, who has been pitted against him in Patiala.
"Having been a army chief...and then made governor by the United Progressive Alliance, he is now claiming to have been upset by Operation Bluestar," he said.
To another question, Amarinder said there was no change of candidates on any seats, except some SC seats, and the party was sticking to its stand of giving one ticket to one family based on its winnability criteria.
On the Sutlej Yamuna link canal issue, Amarinder asserted that if the Congress was voted to power in Punjab, it would bring a new legislation to protect the water rights of Punjab and make sure that not even a single drop of water left the state.
IMAGE: Punjab Congress president Capt Amarinder Singh addresses a press conference in Amritsar. Photograph: PTI Photo