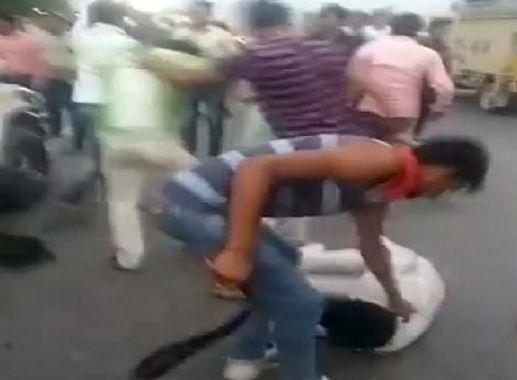 The National Human Rights Commission has issued notices to the Centre and the Rajasthan government over the lynching of a man allegedly by cow vigilantes in Alwar, even as three persons arrested in connection with the attack were sent to 14-day judicial custody on Friday.
The commission termed the incident as 'painful' and 'serious violation' of human rights saying 'self-proclaimed' volunteers are creating an atmosphere of fear in the society.
In the notice issued to the Rajasthan chief secretary, the commission has called for a detailed report in the matter along with action taken against the culprits.
A notice has also been issued to the Union home secretary, calling for a response as to what steps have been taken or proposed to be taken by the Centre to deal with such incidents in the country.
They have been asked to respond within four weeks.
Meanwhile, the Union home ministry on Friday received a report from the Rajasthan government which said a special police team has been constituted to arrest all those allegedly involved in the lynching.
The Rajasthan government gave a preliminary report about the incident in which a 55-year-old man, Pehlu Khan, was beaten to death in Alwar district allegedly by a group of cow vigilantes on April 1.
The local police reached the spot soon after receiving the report about the incident, rescued four of Khan's colleagues and took him to a hospital, the report to the Union home ministry said.
The Rajasthan government said three people have been arrested so far and a special police team has been constituted to probe the incident and find out the circumstances leading to it.
The three arrested accused -- Kalu Ram, 44, of Ratanpura; Vipin Yadav, 19, and Ravindra Yadav, 30, both from Behror -- were on Friday produced in a court in Jaipur which granted their custody and they were sent to jail, Alwar Superintendent of Police Rahul Prakash said.
He said no fresh arrest has been made in the case and that police teams are looking for other accused named in the first information report.
The three were on one-day police remand on Thursday after they were booked under Indian Penal Code Sections 302 (murder), 143 (unlawful assembly), 308 (culpable homicide), among others.
They have identified on the basis of a video footage and are among the prime accused in the case.
The police team will also try to arrest the remaining accused, sources said quoting the report.
The incident took place when as many as 16 people were allegedly transporting 36 bovines in six pickup vans.
The deceased, Khan, and four others, including his two sons, were beaten brutally by some locals at Behror in Alwar suspecting they were smuggling cows, police said.
The incident rocked both Houses of Parliament where the Congress attacked the BJP saying the Constitution was being violated in the name of cow protection in the states ruled by the saffron party.