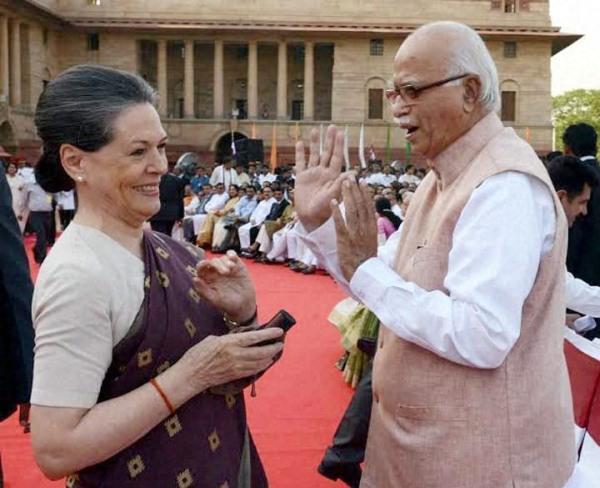 It was a spectacle of bonhomie in the Central Hall of Parliament as Prime Minister Narendra Modi greeted his political adversary Rahul Gandhi warmly grabbing his hand, while Congress President Sonia Gandhi chatted intermittently with BJP veteran L K Advani.
The occasion was the joint sitting of both Lok Sabha and Rajya Sabha, addressed by President Pranab Mukherjee that saw political rivals from Left, Right and Centre exchanging pleasantries.
The exchange of greetings between Modi and the Congress vice-president caught the attention of everybody. The prime minister was seen warmly grabbing Rahul's hand.
Modi greeted the Congress vice-president who was seated in the eighth row along with senior Congress leaders Motilal Vora and Jairam Ramesh.
As soon Modi, dressed in his usual half kurta and jacket, came close to Rahul, he held his hand bringing an instant smile on the Congress leader's face. Soon leaders of various parties surrounded Rahul.
This is perhaps the first occasion when Modi exchanged greetings with Rahul after a bitterly fought Lok Sabha election.
Modi, as the prime ministerial candidate of the Bharatiya Janata Party, had frequently attacked Rahul mocking him as "shehzada" (prince) and targeting the Gandhi family during campaigning.
Before the President's address began, Sonia was seen engaged in prolonged chat with Advani sitting next to her in the packed Central Hall.
A number of MPs, including Chandan Mitra, Babul Supriyo, Rajyavarhan Rathore and Manoj Tewari, who could not find a seat, kept standing during the President's 55-minute address.
Sonia greeted with thumping of desk as the President outlined government's commitment of zero tolerance to violence against women and its promise to provide 33 per cent reservation for them in Parliament and state Assemblies.
Former PM Manmohan Singh and Advani also welcomed it by thumping the desk.
Dr Singh was seated with Modi and Jaitley in one of the first rows.
Sonia also greeted with thumping of desk when Mahatma Gandhi's name was mentioned in the speech. They also hailed the government's plan for cleaning the Ganga River.
The mention of government's commitment to clean the Ganga and ensure return of Kashmiri Pundits to the land of their ancestors drew maximum applause from members.
Union Minister Ravi Shankar Prasad was seen going to each row greeting MPs before the start of the Presidential speech. Leaders of the Congress in the Lok Sabha Mallikarjun Kharge and Rajya Sabha Ghulam Nabi Azad sat next to each other in the same row.

Image: Congress President Sonia Gandhi and L K Advani share a light moment during Narendra Modi's swearing-in. Photograph: PTI