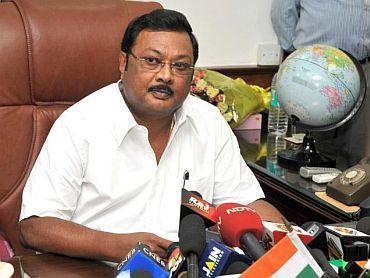 Chemical and Fertiliser Minister M K Alagiri, who has been criticised in the Lok Sabha and Rajya Sabha for his prolonged absence during Parliament sessions, is again taking off for another holiday. This time, the 'frequent flyer' minister is traveling to the United States to visit his daughter and grandchild.
Alagiri is going on a ten-day leave from his ministerial duties. And interestingly, the prime minister's office has approved his visit to the US.
Alagiri has been criticised by the Opposition as well as Speaker Meira Kumar for his prolonged absence during Parliament's budget session. It was recently revealed that he had been flying off frequently to his hometown Chennai or constituency Madurai during the Parliament session.
He was reportedly enjoying a holiday in Maldives during the recent vote on cut motion in Parliament.
The Opposition had also objected to the minister's absence from the Lok Sabha during Question Hour and had not allowed Alagiri's junior Srikant Jena to reply to a question.