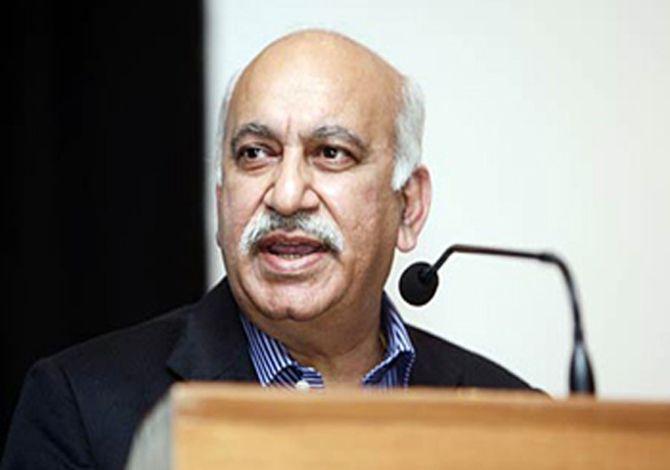 Noted journalist and Bharatiya Janata Party national spokesperson M J Akbar and senior party leader Anil Madhav Dave in Bhopal filed their nomination papers here for the biennial elections to Rajya Sabha from Madhya Pradesh.
While Dave was re-nominated for the Rajya Sabha seat from Madhya Pradesh, Akbar, who represents Jharkhand in the Upper House, was fielded from the state.
Both Akbar and Dave filed their nomination papers in the presence of state Chief Minister Shivraj Singh Chouhan, MP BJP chief Nandkumar Singh Chouhan, Cabinet colleagues and several members of Legislative Assembly.
"I am grateful to the BJP's central leadership, especially Prime Minister Narendra Modi and party president Amit Shah, for giving party nomination to not just a political worker but a renowned journalist and thinker (Akbar), and also to a key organiser and noted environmentalist (Dave) from Madhya Pradesh," Chouhan told reporters after the two leaders filed their nominations before Returning Officer and state assembly's Principal Secretary Bhagwan Dev Israni.
Dave had done a commendable job for the conservation of river Narmada in the state and is a different kind of social-political worker, he said.
The state and the BJP will get immensely benefited from his re-nomination, the chief minister said. He also said that Akbar needs no introduction as he stands apart among the journalist's fraternity because of his original thinking and his patriotism for the country.
It is a matter of privilege for the state that a person like him will now serve as the Upper House member from the state, Chouhan said.
Rumours were also doing the rounds in political circles that in order to force a contest for the third seat and to make things difficult for Congress, the BJP may ask its senior leader Vinod Gotia to file papers as independent candidate.
However, Chouhan refused to comment on the issue. Congress has already fielded senior lawyer Vivek Tankha as its candidate for the RS biennial polls to be held on June 11.
Three Rajya Sabha seats from Madhya Pradesh are to fall vacant. Out of it, two are with the BJP while one is with the Congress.