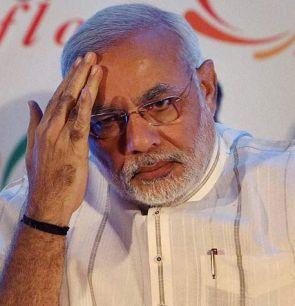 A defamation case was on Friday registered against comedy group All India Bakchod for allegedly posting an 'obscene' picture of Prime Minister Narendra Modi on Twitter.
AIB had on Thursday tweeted a picture of a Modi lookalike peering into his mobile phone at a railway station alongside an actual photograph of the PM, with props superimposed with the help of Snapchat's dog filter, an app.
The dog filter is a special effect application which allows users to add a dog's nose, ears and tongue over their faces while taking a selfie or on other photographs.
The post had a hashtag that apparently referred to Modi's frequent foreign visits.
A Twitter user, Reetesh Maheshwari, drew the Mumbai Police's attention towards it and demanded action.
The police forwarded his tweet to the Cyber Police Station, which registered an FIR.
"After legal consultations, an offence was registered against AIB and a further probe is on," said Mumbai police spokesperson DCP Rashmi Karandikar.
DCP Cyber Crime Akbar Pathan said a case has been registered against AIB on charges of 'defamation' and 'publishing/transmitting obscene material in electronic form'.
Text messages and phone calls to AIB co-founder Tanmay Bhat and Rohan Joshi, who is a key member of the group, went unanswered.
After the post came under fire from Twiterrati, Bhat had on Thursday posted a screenshot of what seemed to be an old tweet by Modi which said 'we surely need more humour in public life'.
AIB, known for its comedy sketches broadcast through online platforms, had in 2015 landed in trouble over a 'roast' programme featuring some Bollywood celebrities, and over snapchat filter pictures of Lata Mangeshkar and Sachin Tendulkar last year.