The All India Anna Dravida Munnetra Kazhagam on Monday opposed in Rajya Sabha the government move to put in place a single examination for medical and dental courses through National Eligibility cum Entrance Test while most other parties supported the step, with demands that private colleges should be monitored properly.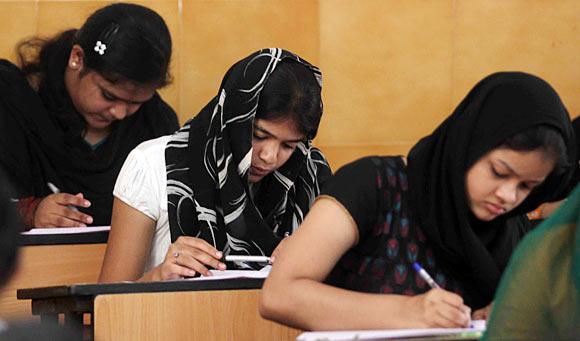 AIADMK leader Navneet Krishna, while speaking on The Indian Medical Council (Amendment) Bill, 2016 and The Dentists (Amendment) Bill, 2016, termed it as "arbitrary, illegal and unconstitutional" step and said it will impact rural and poor children who do not follow CBSE syllabus.
The bill, which has already been passed by the Lok Sabha, provides for a Constitutional status to the NEET which is intended to be introduced in the academic session next year.
The bill seeks to amend the Indian Medical Council Act, 1956 and the Dentists Act, 1948 and replace the Ordinances that were promulgated by the government to circumvent the Supreme Court order for implementation of NEET examination this session itself.
"The rural and poor students of Tamil Nadu will be affected very badly by NEET. There is no need for this bill when the entire issue is under judicial review," Krishna said.
Narendra Budania of the Congress, while reminding the House that the common entrance test was an idea of the previous United Progressive Alliance government, congratulated Health Minister J P Nadda for pursuing it.
However, he urged him to ensure that private colleges are monitored so that the "pure profession becomes purer".
T Subbarami Reddy of the Congress, who moved a resolution of disapproval against both bills, wondered why the government was in a hurry to come out with an ordinance in May when they could have waited for a month and half for the monsoon session of Parliament to start.
Naresh Aggarwal of the Samajwadi Party supported the bills and asked the Minister to be "bold" and take full control of the Medical Council of India rather than divide it into four parts.
He said if there was so much concern about quality of some private medical colleges, then an exit test must be made compulsory.
Doctors passing out from medical colleges should be made o serve in rural India for five years, he said.
Supporting the two Bills, Sharad Yadav of the Janata Dal-United said this is "a very good step" by the government which will enable simultaneous holding of (medical) exam across the country.
Yadav said that education and health system of the country have totally gone into private sector's hands while education, controlled by the government, is in "dire straits".
However, he said, the condition of government medical colleges was relatively better than their private counterparts.
Yadav rued that no member of Rajya Sabha spoke about donations in medical colleges and asked "why do we not express concern about this."
SP member Naresh Agarwal objected to Yadav's comment and said he had spoken on reservation in private medical colleges and added that his party supremo Mulayam Singh Yadav was a strong proponent of reservation.
Yadav asked the Government to end the system of donation, alleging that those who have black money were opening medical and engineering colleges. "In India, the medical education system has been ruined and it is only because of this donation system," he said.
Yadav asked the Government whether reservation will be introduced in private colleges also.
K K Ragesh of Communist Party of India-Marxist said "while supporting the very concept of uniform entrance test, I take this opportunity to share anxiety expressed by some".
Pointing out that education was a concurrent subject, Ragesh sought to know whether the Government had consulted states while promulgating the bill.
He observed that CBSE students would be on a better footing while state government Board students will have lesser chance of getting admission through the NEET entrance exam. He asked whether the Government can ensure admission of students from backward communities in private colleges.
Stating that private colleges are charging exorbitant fee, Ragesh advocated provision of cross subsidisation, differential fee structure, scholarships to help poor students.
He also sought to know whether deemed universities are covered under the purview of this Bill and alleged that students were being admitted in private colleges only on the basis of money and not on merit.
Dilip Tirkey of the Biju Janata Dal said the condition of medical education in the country was "worse" and added that the mechanism of seats reserved under state quota was not clear.
"As per the Bill, NEET will be conducted by CBSE. But there are thousands of schools belonging to Boards other than CBSE. Those students will be hurt," he said.
Image used for representation purpose only