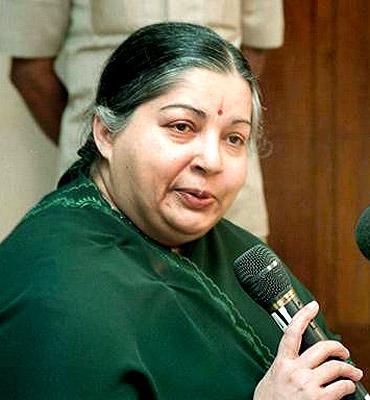 Stealing a march over archrival Dravida Munnetra Kazhagam, the ruling All India Anna Dravida Munnetra Kazhagam on Monday released its list of 227 candidates for the May 16 Tamil Nadu assembly polls and Chief Minister Jayalalithaa is all set to seek re-election from R K Nagar constituency.
Allotting seven seats to smaller allies, AIADMK general secretary Jayalalithaa on Monday released the list naming candidates for the rest of 227 seats for which she held interviews for ticket aspirants from across Tamil Nadu in the past two weeks.
Her confidant and Finance Minister O Panneerselvam, Electricity Minister Natham R Viswanathan, Housing Minister R Vaithlingam, Handloom Minister Gokula Indira and Minister for Social Welfare B Valarmathi are among the ministers who have been re-nominated.
S P Velumani, Sellur K Raju, RB Udayakumar, and K T Rajendrabalaji -- also sitting ministers -- and assembly Deputy Speaker Pollachi V Jayaraman and former Director General of Police of Tamil Nadu R Natraj also figure in the list.
K Pandiarajan, a rebel Desiya Murpokku Dravida Kazhagam MLA who joined the AIADMK after the conclusion of the last assembly session, has also been named.
Allies Indian Republican Party, All India Samathuva Makkal Katchi, Tamil Nadu Kongu Ilangyar Peravai, Tamil Manila Muslim League and Mukkulathor Pulipadai have all been allotted one seat each and Manithaneya Jananayaga Katchi, a splinter outfit of Manithaneya Makkal Katchi has been given two seats. She held talks with them before the announcement.
AIADMK's archrival DMK, which just concluded seat sharing with the Congress and smaller allies, is expected to announce its candidates later.
Including Jayalalithaa, 17 ministers will contest polls again, while 10 were denied tickets.
The ministers who have not been given party tickets are P Mohan, S Sundararaj, S P Shanmuganathan, P Palaniappan, N Subramnian, Jayapal, Mukkur N Subramanian, M S M Anandan, T P Poonachi and S Abdul Rahim.
Assembly Speaker P Dhanapal, and P Vetrivel, who vacated his seat to facilitate Jayalalithaa to contest in R K Nagar last year, have also been named in the list.
Partihi Ilamvazhuthi, who switched sides to the AIADMK years ago from the DMK, will seek his fortune in this election.
Former ministers including C V Shanmugam, K A Sengottaiyan, Senthil Balaji, K P Munusamy, C Ponnaiyanm, former assembly speaker D Jayakumar, former Lok Sabha MP Chitlapakkam Rajenran, veteran politician Panruti S Ramachandran who reverted to the AIADMK after a stint in the DMDK and several professionals including doctors, and advocates have also been named.
Also, the AIADMK named candidates for all the 30 constituencies in Puducherry including seven seats in Karikkal, Mahe and Yanam. Seven candidates were also named in Kerala by the party in regions close to Tamil Nadu.
Nominees were named in Tiruvananthapuram District, Chitoor, Malampuzha and Nemmara (all in Palakkad District), Peermedu, Udumbanchozha, Devikulam (in Idukki district).
The AIADMK had won a few seats in such areas in the civic polls held last year.