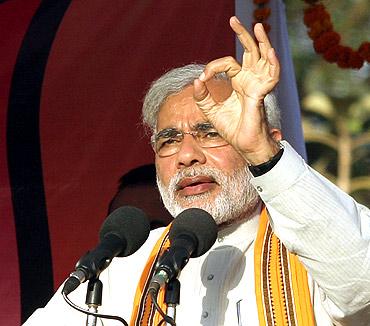 Expressing keen interest to work with the Narendra Modi government, Canada on Monday said the PM is welcomed there and that they are looking forward to an early visit by him.
Underlining that the Western countries mean to take into full account India's new place in the world, Canadian Citizenship and Immigration Minister Chris Alexander said Canada will continue to be in the forefront of those countries pursuing a "truly strategic breakthrough" with New Delhi.
"Prime Minister Modi is welcome in Canada and we are looking forward to seeing him soon if possible," he said. "We have a very broad agenda to pursue which is forward- looking. Energy, education, food security and infrastructure are all strategic areas of partnership for Canada and India and there are exciting things happening every week between our two countries that we look forward to multiply under the leadership of this new government," he said.
Alexander said Canadian businessmen and officials have been frequent visitors to Gujarat and have been participants in vibrant Gujarat initiative. "We have been following the success of Modi in his home state long before this election took place and he will be welcomed in Canada as PM," he said.
The Minister said he respected the mandate given by the people. "He has a very strong mandate and it is a clear one. It relates to governance and the economy as I understand."
Alexander announced CAN+ programme to facilitate trade and travel with India. The programme hopes to result in more efficient processing for Indian visitors to Canada.
The programme is open to Indian nationals who have travelled to Canada or the United States within the last 10 years. They will benefit from expedited processing, which will free up visa officers to work on other cases, improving overall processing times for all Indian travellers, he said.
Alexander also announced "Express Entry" facility, which will focus on faster immigration process for "talented newcomers" for the benefit of Canadian economy.