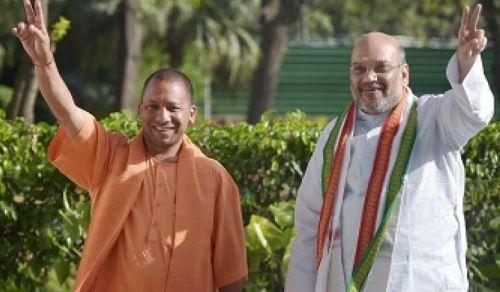 Uttar Pradesh Chief Minister Yogi Adityanath on Monday met Bharatiya Janata Party president Amit Shah, their first meeting after defeats suffered by the party in the recent bypolls in the state.
There was no official comment on what transpired in the meeting, but they are believed to have discussed the evolving political situation in the state where opposition parties have joined hands to challenge the BJP.
The party has also witnessed dissenting voices from within, including some MPs and MLAs, over the functioning of the state government.
Politically, Uttar Pradesh is considered by far the most important state, especially for the BJP as the party had swept it in 2014 Lok Sabha polls. The state sends the biggest contingent of 80 MPs to the Lok Sabha, out of which the saffron party had won 71 in the last elections while its ally won another two. However, the BJP's tally from the state has come down following the bypoll losses.
Shah had recently said that his party is working to grab 50 per cent vote share in the state to weaken any united opposition challenge.
The BJP had last month lost Kairana Lok Sabha and Noorpur assembly bypolls. Earlier, it had lost bypolls in prestigious Gorakhpur, a seat vacated by Adityanath, and Phulpur parliamentary seats.
The chief minister also met Deputy Chief Minister Keshav Prasad Maurya to enquire about his health following his operation in AIIMS in the national capital.