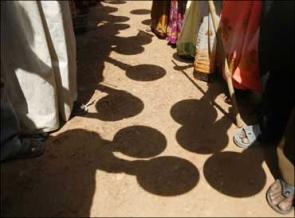 Amid mounting criticism of poverty reduction estimates by the Planning Commission, Congress leader Digvijay Singh on Saturday joined Union Minister Kapil Sibal in questioning the criteria for fixing poverty line.
Singh felt that malnourishment in members of family should be the criteria and that the existing method was too abstract and can't be same for all areas. "I have always failed to understand the Planning Commission criteria for fixing poverty line. It is too abstract can't be same for all areas," the Congress general secretary said on the microblogging site Twitter.
In another tweet, Singh made a strong pitch for linking poverty with malnutrition and anaemia. "First indicator of poverty is malnourishment and anaemia in the family which is easily measurable. Can't we have that as a criteria?" he tweeted.
His remarks came a day after Sibal challenged the method used by the Planning Commission to calculate poverty saying a family of five cannot live on Rs 5,000 a month. "If the Planning Commission said those who live above Rs 5,000 a month are not at poverty line, obviously there is something wrong with the definition of poverty in this country. How can anybody live at Rs 5,000?" he had said in Kolkata.
The plan panel released the latest poverty estimates earlier this week for the country showing that the percentage of people below poverty line declined sharply to 21.9 in the financial year 2011-12 from 37.2 in 2004-05. It had said that for a family of five, the below poverty line cap in terms of expenditure would amount to Rs 4,080 per month in rural areas and Rs 5,000 per month in urban areas.
Singh's attack on the Planning Commission came a day after the Congress distanced itself from the remarks by two of its leaders that one could have meals at Rs 5 and Rs 12, which have been ridiculed by several parties.
The meal remarks made by Congress spokesperson Raj Babbar and another party leader Rasheed Masood were dubbed as "absurd", "foolish" and "illogical" by the Bharatiya Janata Party and others putting the Congress on the defensive.
Earlier, Nationalist Congress Party leader and Heavy Industries Minister Praful Patel had said that the plan panel estimates are based on "totally wrong" benchmark of per capita daily expenditure.
Ajay Maken, Congress general secretary and in-charge of communication department, had, however, yesterday claimed that under the Congress-led United Progressive Alliance, poverty has declined from 37.2 per cent in 2004-5 to 21.9 per cent--a decline from 40.71 crore to 26.93 crore people below the poverty line. He had also attacked the BJP for criticising the Rs 33.30 poverty line cap of the Planning Commission, saying the opposition party, "should explain why it was Rs 16.73 in 59th NSSO survey of 2003 and accepted by the BJP/NDA governmemt?"
"Unlike the BJP NDA, we have de-linked this poverty line from all 150 Central Govt schemes including NREGA, ICDS, MDM, NRHM, SSA, PDS except 1. The NSSO survey-1993-94 to 2004-05 the avg. decline in poverty was 0.74 per cent per year. During UPA it accelerated three times to 2.18 per cent pts per year," Maken had said on Twitter.