Fearing the repercussions of a divided house, ruling Samajwadi Party is contemplating taking back all its expelled leaders, if Rajya Sabha member Ramgopal Yadav's reinstatement is any signal.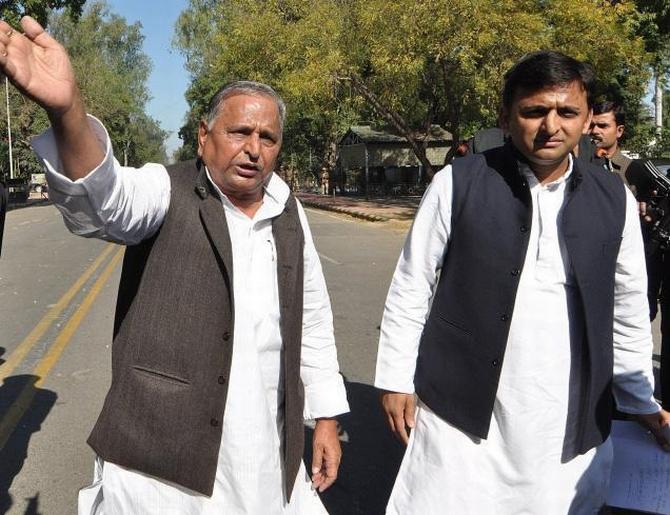 With Uttar Pradesh assembly elections barely few months away, the SP does not want to portary a picture of disunity knowing fully well that dents in its vote bank will help its opponents the Bahujan Samaj Party and the Bharatiya Janata Party in the battle of ballots.
Some of the expelled youth leaders, close to Chief Minister Akhilesh Yadav, have already met party supremo Mulayam Singh Yadav, triggering speculation of their early return to party fold.
MLCs Sunil Sajan, Anand Bhadauria and Sanjay Lather, and youth leaders Gaurav Dubey, Digvijay Singh Dev and Brajesh Yadav among others met Mulayam and have reportedly tendered apology for their actions that had led to their expulsion from the party, SP sources said.
The youth leaders are said to have pleaded with the party chief to allow them to work for the SP to strengthen it before the assembly polls.
Mulayam has assured them that he would look into their request, the sources said.
After the return of Ramgopal, who was expelled from the party for six years, speculation was rife that others too will also brought back.
Taking a strong view of the protests and sloganeering on the streets during the feud in the first family of Samajwadi Party, the state unit had expelled a number of youth wing leaders, who were said to be close to Akhilesh.
Ramgopal's return to SP is widely seen as a victory for the Akhilesh camp, which has been at loggerheads with Shivpal over party control and poll strategy.
Party insiders said that Ram Gopal's return heralded return of expelled youth leaders of Akhilesh camp as the Rajya Sabha member had laid down a condition that all those scaked should be reinducted into the party if his expulsion was revoked.
"Talks are going on and it is expected that all expulsions will be revoked after a warning to the youth leaders," a senior SP leader said, adding that party veterans Beni Prasad Verma and Reoti Raman -- close to Mulayam -- were working overtime to bring Ram Gopal and others back.
Around 20 office bearers of various youth wings in Lucknow and other districts who had either quit or were expelled from the party, could also return to the original party fold.
Sources, however, said there could a problem as they might not get back the posts they held as Shivpal has already appointed new faces.
Udaiveer Singh, a member of the UP Legislative Council, who was also expelled for six years after he wrote a letter to Mulayam asking him step down as SP president to make way for Akhilesh, however, did not meet the party supremo.
After he was expelled last month, a defiant Singh had asserted, "I stand by the letter, won't apologise, don't regret and I am with chief minister Akhilesh Yadav."
Singh had alleged in the letter that Shivpal was acting as the political front of the chief minister's stepmother, a view said to be shared by a section in the party.
The crisis in the party was sparked by the appointment of Shivpal as state president replacing Akhilesh.
Akhilesh had retaliated by stripping Shivpal of key ministerial portfolios and dropping two ministers accused of corruption.
The power struggle intensified after Shivpal expelled the youth leaders and went ahead with merging a party floated by a jailed gangster with SP despite strong objections from Akhilesh.
Mulayam, however, managed to broker an uneasy truce between the warring camps to project a show of unity at the SP silver jubilee bash on November 5, putting a temporary lid on the gaping fissures.
BJP chief Amit Shah and BSP supremo Mayawati have spared no effort to inform the electorate that Samajwadi Party was a divided house with sharp differences in the Yadav clan casting a long shadow over governance.
Shah has been telling voters umpteen times at his rallies that the state was ruled by three-and-a-half chief ministers, a reference to Mulayam, Akhilesh, Shivpal, and half CM Azam Khan.
The BJP president has also accused the uncle-nephew duo of Shivpal and Akhilesh of usupring a chunk of central funds meant for the state's development.
Mayawati on the other hand has never missed an opportunity to highlight the tug-of-war in the Yadav family, especially the strained ties between uncle and nephew, while appealing to voters to rid the state of the present dispensation.