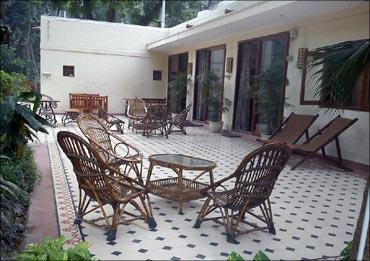 Still to recover from their electoral rout, defeated Congress members of Parliament and ministers are now faced with the heart-wrenching job of moving out of their official houses, says Rediff.com contributor Anita Katyal
The reality sank in when 162 former Congress MPs, including 55 former ministers, were recently sent notices to vacate their Lutyens' Zone bungalows and flats. While the MPs have been asked to move out by June 18, the ministers have to leave by June 26 to enable their successors in the National Democratic Alliance government to move in.
Former Congress MPs and ministers were particularly upset at the rude notices sent by the NDA government, stating angrily that the deadlines had been advanced as defeated Parliamentarians were usually given more time to vacate their bungalows.
Warned by the Narendra Modi-led NDA government that eviction proceedings would be initiated against them if they did not keep to the given deadline, these nervous MPs have started hunting for alternative accommodation. There is a flurry of activity in the ministerial bungalows as farewell parties are being organised, packers have been called in and brokers are being approached.
It is particularly tough for those who do not own a house in Delhi. Some former MPs have been heard complaining about the astronomical rents they would have to shell out to rent a private house while others lamented that landlords were wary of renting their place to a politician.
"I can only afford a place in Dwarka which is more than 30 kilometres away from Central Delhi," remarked a glum-faced former Maharashtra minister who has begun the process of packing his belongings.
While former ministers like Salman Khursheed, Jitin Prasada and RPN Singh are fortunate because they have their own houses in Delhi; others such as S Jaipal Reddy and Vilas Muttemwar have no choice but to go back to their home state.
It is proving to be particularly painful for the older politicians who have been living in Lutyens Zone bungalows for as long as two decades. Reddy's case is particularly ironical as he has been sent a notice by the urban development ministry, which he once headed and currently under the charge of fellow Andhra minister M.Venkaiah Naidu.
Besides former MPs and ministers, all those who have been beneficiaries of the UPA government's generosity are also on tenterhooks following media reports that their allotments could be cancelled as the NDA government has decided that to allot bungalows in Lutyens' Zone only to cabinet ministers and heads of Constitutional bodies.
Among those who benefited from the last order by the Cabinet Committee on Accommodation in the UPA government included Assam Chief Minister Tarun Gogoi, former Unique Identification Authority of India chief Nandan Nilekani, Rajya Sabha member KTS Tulsi, former PM Manmohan Singh's adviser TKA Nair and the late Arjun Singh's wife Saroj Kumari.
Former Bihar chief minister Lalu Prasad Yadav and former home minister Buta Singh who were given special permission to stay on in a government bungalow, will now have to move out. While Lalu was able to occupy the Tughlak Road bungalow on medical grounds, Buta Singh overstayed at his Teen Murti Marg bungalow by paying rent much lower than the market value.
While the process of getting the bungalows and flats vacated will take some time, as many as 320 new MPs, including ministers, are waiting to get official accommodation.
Till then, the newly-elected Parliamentarians are staying in transit accommodation. Consequently, state guest houses and Indian Tourism Development Corporation hotels are overflowing with the Capital's new visitors.
The directorate of estate (DoE) is responsible for providing bungalows to ministers while the Lok Sabha housing committee allocates houses to new MPs. The committee is to be set up shortly so that the task of finding accommodation for the new MPs can be completed by the time the budget session of Parliament commences by mid-July.
Urban development ministry officials have admitted that the getting the houses vacated and the process of allotment is a challenging task as many old occupants tend to overstay. Though the notices sent to them warn that eviction proceedings would be initiated against them if they fail to abide by the deadline, it is never followed through seriously.