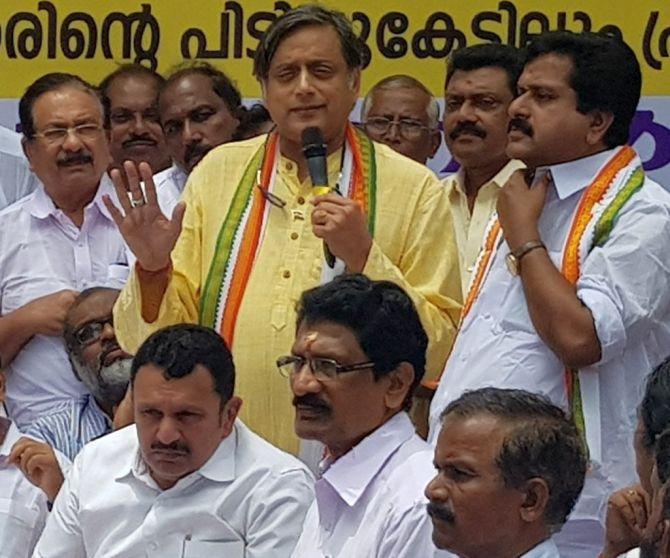 Days after the walls of his office in his constituency Thiruvananthapuram were defaced by Bharatiya Janata Party youth wing members, Congress leader Shashi Tharoor has wondered whether "Talibanisation of Hinduism" has started.
Tharoor had recently courted a huge controversy with remarks that the BJP, if voted to power again, will rewrite the Constitution and pave the way for creation of a "Hindu Pakistan".
"They are asking me to go to Pakistan. Who has given them the right to decide that I am not a Hindu like them and so I cannot live in India?
"The BJP's talk of 'Hindu Rashtra' is really dangerous and will destroy this nation. Has Talibanisation started in Hinduism?" the Congress MP from Thiruvananthapuram told workers of Kerala's opposition United Democratic Front at a protest march against alleged neglect of the state by the Centre on Tuesday.
Members of the BJP's youth wing -- Bhartiya Janata Yuva Morcha -- had defaced Tharoor's office on Monday while demanding an apology for his "Hindu Pakistan" comments.
The Congress had distanced itself from his comments and cautioned its leaders to choose words carefully while rejecting the saffron party's "hatred".
Five BJYM workers were arrested and released on bail in connection with the incident of vandalism at Tharoor's office.
BJP workers had shown black flags to the former Union minister on Tuesday.
Blaming right-wing activists for death threats and vandalising his office, Tharoor on Wednesday demanded action against 'anti-national elements' and the intervention of the prime minister in Lok Sabha on the first day of Parliament's monsoon session.
Parliamentary Affairs Minister Ananth Kumar sought to distance his party from the attack on Tharoor's office in Thiruvananthapuram, saying law and order situation has to be dealt with by the state government.
Heated exchanges ensued when Kumar said the attack was "state-sponsored" and was countered by members of Congress and the Left parties, leading Deputy Speaker Thambidurai, who was on chair, to expunge the names of the parties they have blamed from the records.
Thambidurai said the entire House was concerned over a member and his office being attacked.
Raising the issue during Zero Hour, Tharoor said such attacks on people, who express dissent, destroy the idea of pluralism and violate the ground rules of the Constitution of freedom of speech and expression.
Tharoor also raised the issue of the attack on Swami Agnivesh on Tuesday in Jharkhand and said it showed that there was no place for dissent.
"We cannot and should not stand by hooliganism... the rule of law should prevail," he said.
"I urge the prime minister to break his silence and seek action against anti-national elements," Tharoor said.
Replying to Tharoor, Kumar said the attacks were due to "state-organised terror" and the allegations that it was carried out by right-wing activists are "baseless and far from truth".
Congress leader Mallikarjun Kharge said Kumar was misleading the House as the government had all intelligence agencies, and it can find out who were involved in the attack.
Kumar said "law and order was a state government issue".