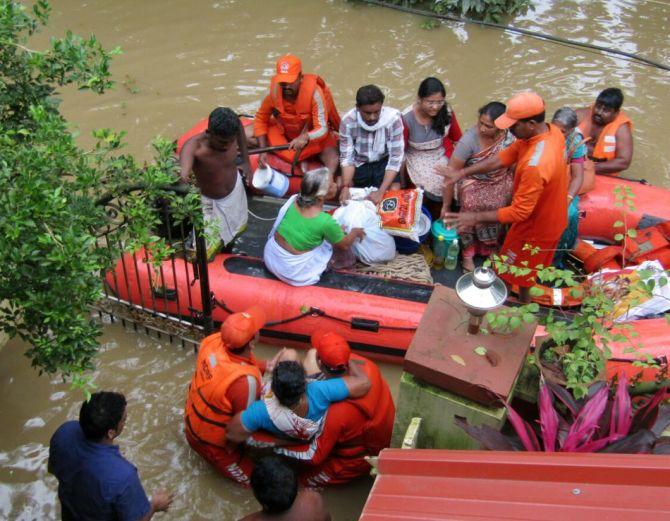 With water receding from most parts of rain-battered Kerala, the state is facing a challenge from different types of fever including leptospirosis which has claimed nine lives since August 29.
Two persons died of leptospirosis (rat fever) Monday, one each at Palakkad and Kozhikode, according to the Directorate of Health Services.
A total of 71 people tested positive for rat fever in various hospitals in the state while 123 people approached hospitals with suspected symptoms of the disease.
More than 13,800 people took treatment for various types of fever across the state Monday, officials said. Eleven confirmed and 21 suspected cases of dengue were also
reported in the state.
Talking to reporters after a meeting to review the fever-situation, Health Minister K K Shylaja said the government was ready with a plan to check the spread of different types of fever including leptospirosis.
People, who had engaged in cleaning operations in the flood-affected areas, have been asked to take preventive medicines for leptospirosis, she said.
District authorities have been asked to ensure proper waste management and mosquito control to check dengue fever.
Meanwhile, a cleaning drive was held at Kuttanad in Alappuzha district where state ministers G Sudhakaran and T M Thomas Isaac participated.
Opposition leader Ramesh Chennithala and former chief minister Oommen Chandy also took part in a drive organised by Kerala PCC in Alappuzha, one of the worst flood affected areas.
Flood water is yet to recede from some parts of Alappuzha especially from Kuttanad.
With more and more people returning home, the number of people in relief camps have come down to about 9550 from 13,000, State Disaster Management Control Room officials said.
Of this 4, 700 persons were in 44 relief camps in Alappuzha, they said.
Officials said rain-related incidents have claimed 488 lives since the onset of the south west monsoon on May 28.