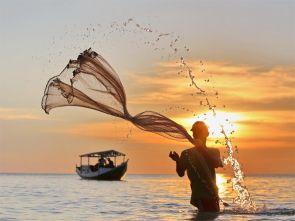 The Indian Coast Guard and Gujarat Fisheries department officials on Sunday received the 57 Indian fishing boats at the International Maritime Boundary Line that were released by Pakistan from its custody.
The seized boats were released on Saturday from a port in Karachi as a goodwill gesture after Pakistan Prime Minister Nawaz Sharif had made the announcement during his visit to Delhi in May last year.
"The boats arrived at the IMBL, 145 nautical miles from Porbandar port, around 3:30 pm today. It is a historic moment as Pakistan has released boats after a gap of 11 years," Gujarat Fisheries and Water Resources Minister Babubhai Bokharia said.
Earlier, an eight-member team from Gujarat, comprising leaders of fishermen community and an official of fisheries department reached Karachi on March 9 to complete modalities and undertake the repair works.
Assistant director, state Fisheries department, and a member of the Indian delegation, Dr P C Malli, said that Pakistan Maritime Security Agency had maintained the boats in good condition and extended full cooperation for their repatriation.
Gujarat Fisheries Commissioner P L Darbar said two ships of ICG, carrying fisheries department officials and marine police staff, received the boats on Sunday.
PMSA had engaged 22 boats for towing the Indian boats from Karachi port to IMBL, he added.
Indian fishermen and boats are often apprehended by PMSA authorities when they violate Pakistan territorial waters.