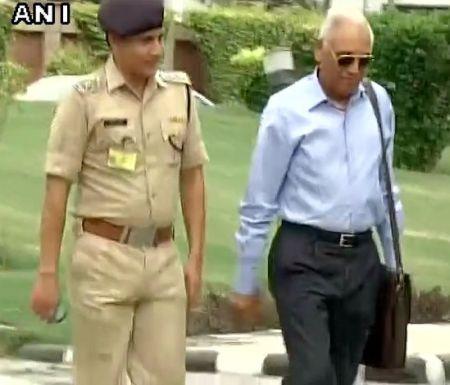 Former Indian Air Force chief SP Tyagi was on Tuesday questioned by the Central Bureau for Investigation for the second consecutive day as part of the probe into the controversial AgustaWestland helicopter deal with the agency claiming he has accepted having met a senior functionary of the firm's Italian-based parent company Finmeccanica.
Tyagi, who has been named in the CBI case registered in March 2013, was summoned to the agency headquarters again during which he was shown some visitor diary entries and other documents. He was questioned for nearly nine hours.
While the CBI was not willing to come on record on questioning, sources in the agency claimed that Tyagi has accepted that he had a meeting with Chief Operating Officer of Finmeccanica Georgio Zapa in Delhi on February 15, 2005 when he was the IAF chief after he was shown various documents including diary entries and visitors register.
Sources claimed that Tyagi was evasive on Monday when asked about his meetings with representatives of Finmeccanica or AgustaWestland but after "persistent questioning" he accepted that a meeting did take place.
Sources did not clarify if it was an official meeting but their reference to visitors diary suggested it was in the records.
The deliberations to alter specifications of the VVIP chopper--flying ceiling of 6,000 metres and a cabinet height of 1.8 metres--started from March, 2005 in which senior officials of Indian Air Force, Prime Minister's Office and Defence Ministry had participated, according to government records.
These deliberations continued till September 2006 and suggestions to reduce the flying ceiling were accepted which brought Finmeccanica's subsidiary AgustaWestland's helicopter in contention for the deal to sell 12 VVIP choppers to India.
Tyagi, who has been acquitted by an Italian court last year in June, was not immediately available for comments. However, he has always denied any involvement in the case.
The CBI, which started investigations in 2013, is also claiming that it is still examining travel details of Tyagi and his meetings besides sources of funding for his travels.
Sources claimed that while the agency had come to know about three Noida-based companies owned by the former air chief he has accepted ownership of one more company by him and his wife.
All these companies were allegedly incorporated after 2011--four years after Tyagi retired from service. On February 8, 2010, a contract was signed with AgustaWestland for the supply of 12 AW-101 VVIP helicopter.
Sources said Tyagi has been called again tomorrow when another accused Gautam Khaitan will also be questioned.
The CBI had registered a case against Tyagi along with 13 others including his cousins and European middlemen.
The allegation against the former air chief was that he reduced flying ceiling of the helicopter from 6,000m to 4,500m (15,000ft) which put AgustaWestland helicopters in the race for the deal without which its choppers were not even qualified for submission of bids.
Tyagi has denied allegations against him claiming innocence and that the change of specifications, which brought AgustaWestland into contention, was a collective decision in which senior officers of Indian Air Force, SPG, NSA and other departments were involved.