Mamata Banerjee has fulfilled two key electoral promises: Ridding Lalgarh of Naxals and bringing peace to Darjeeling, says Ishita Ayan Dutt.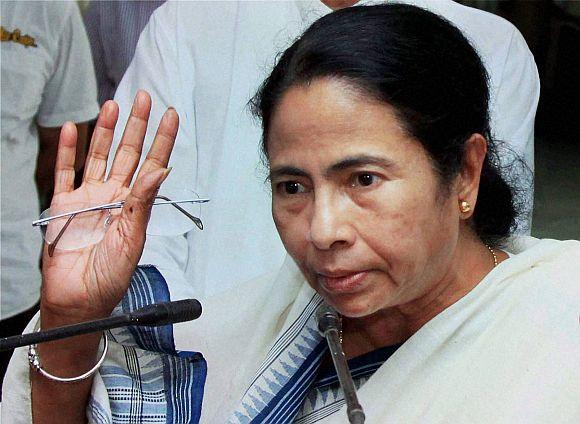 Oh, the power of the word! Mamata Banerjee said, let there be light. And, there was light. On December 18, the Christmas lights were switched on for Park Street, the most happening thoroughfare in Kolkata. The chief minister had promised that for the first time, lighting would extend beyond Park Street. And, it has.
Over the past week, lamp posts in all major streets of the city have been wrapped with intertwining blue and white lights. Christmas is still in the air, long after it's gone from every other city of the world, and will probably be around much after the assembly elections in May, with Mamata Banerjee almost sure to return as chief minister. Till May, Kolkata will be a picture of prosperity.
It hardly matters that adversaries like the Communist Party of India-Marxist are crying hoarse that Kolkata Municipal Corporation's electricity bill has increased from Rs 9 crore to Rs 25 crore a month in five years; there is festivity in the air and it's infectious.
"I slammed Mamata during Singur and after. But, I have been visiting every three months and she has done a wonderful job of cleaning up Kolkata. The general upkeep is far better," says Suhel Seth of Counselage India, a brand marketing consultancy firm.
Seth is not alone. There is general unanimity that sans the blue and white (Banerjee's favourite colours) stripes here and there, Mamata has done far better than the previous Left Front government on Kolkata beautification.
"These are cosmetic changes. There is failure all around," CPI-M leader and former mayor of Kolkata, Bikash Ranjan Bhattacharya, asserts.
That might be stretching it too far. Politically, Banerjee has scored significantly since she came to power in 2011 by living up to at least two key electoral promises: Ridding Lalgarh of Naxals and bringing peace to Darjeeling. What remains unfulfilled is returning 400 acres of land to farmers at Singur (which resurrected her political career). But, it does ring true when she says, "Pahar (hills of Darjeeling) hanshche (smiling), Jangalmahal (Lalgarh) hanshche (is smiling)."
During last years of the Left Front government, the death toll caused by Naxal violence was as high as 100 every quarter. That has given way to peace and development. The strikes that once caused widespread disruption in Darjeeling are not so frequent.
There are other successes. Bengal's finances are in better shape, with own source revenue collections having increased from Rs 65,574 crore in 2011 to Rs 1.33 lakh crore by March 2015.
"She is the best performing chief minister in the country," says Sanjiv Goenka, chairman of RP-Sanjiv Goenka group.
Bhattacharya says such achievements are a part of Banerjee's successful public relations campaign but even he might find it difficult to explain why the various chit-fund scams like Saradha that played out in West Bengal in the last couple of years, and fanned by the opposition, mainly the Bharatiya Janata Party, have had little impact on her popularity.
Last May, at the peak of the Saradha investigation, Banerjee and her Trinamool Congress swept the civic body elections in West Bengal, winning 70 of the 92 municipalities. In Kolkata, her party won in 115 of the 144 wards. The BJP, which was seen as a close contender, drew a blank and that kind of put to rest its ambitions in West Bengal, while paving the way for a new bonhomie at the Centre.
Friendly relations with the Centre have been mutually beneficial. The TMC has extended support to the goods and services tax bill, while West Bengal has bagged some big-ticket investments from the Centre and its public sector units, perhaps Banerjee's weakest point.
According to the 2014-15 annual report of the department of industrial policy & promotion in the Union ministry of commerce and industry, during 2012-14, Bengal received 214 investment proposals amounting to Rs 15,454 crore, which gives an annual average of Rs 7,727 crore. This is way below the Rs 18,836 crore in 2002-07 (10th Five-year Plan) and Rs 102,378 crore in 2007-12 (11th Plan).
The saving grace is the growth of the micro, small and medium enterprise sector. The number of clusters have grown from 49 in the earlier regime to 331 during 2011-15, while credit flow has jumped from Rs 16,764 crore to Rs 91,752 crore.
The state government has a different set of investment numbers to rely on. After the recent Bengal Global Business Summit that had the who's who of India Inc, from Mukesh Ambani to Sajjan Jindal, the chief minister said a total of Rs 2,50,254 crore of business announcements, business documents exchanges, expressions of interest and investment proposals were received. That figure, however, includes the Centre's proposals: Investments in road, shipping, telecom and railways adding to Rs 51,000 crore.
Last year too, the biggest draw was Steel Authority of India Ltd's Rs 40,000 crore project.
Perhaps the most significant show of how the Centre has extended a helping hand to Banerjee lies in the example of Haldia Petrochemicals. The central government recently exempted the joint venture company from a tax demand in excess of Rs 2,000 crore, paving the way for a pending share transfer between the private equity firm, The Chatterjee Group's Purnendu Chatterjee and the government. It prompted Chatterjee to commit Rs 20,000 crore to the refinery.
Yet, these investments may not be enough if Bengal has to compete with other states. "Today, no one is investing anywhere in the country. But, when they do, will Bengal be their first choice? It may have now graduated to being considered as one of investment destinations but is that enough," asks an investor.
These questions are being raised by the Left Front as well. The Left had won the 2006 elections with an overwhelming majority on an industrialisation plank. Between 2005 and 2008, the government had bagged investment proposals of Rs 2.37 lakh crore.
"Much of the investment proposals that the chief minister is talking about had been bagged by our government. Bengal's youth need jobs and Banerjee has failed to deliver," a Left leader says.
The party has already led a march from Singur (erstwhile site for the Nano project) to Salboni (site for a mega steel plant originally, and now cement) against lack of industrialisation and had quite a bit of success, with people turning up in large numbers. In the days to come, it plans to raise the pitch on this count and is trying to get the Congress on its side.
Bengal and Banerjee will need more than summits to counter the charge.