Shweta Basu Prasad, the 11-year-old lead actor in Vishal Bhardwaj's 2002 film Makdee --- a performance that won her the National Film Award for Best Child Artist -- was arrested on Sunday after the police caught her in a prostitution racket at a Hyderabad hotel.
The 23-year-old actress was caught in a compromising position, when the police raided a plush hotel at Hyderabad's Banjara Hills. The actress was held along with a pimp and several high-profile businessmen, according to media reports.
A senior police official from Banjara Hills police station said, "Shweta Prasad was arrested on Sunday, and has been sent to a government rehabilitation home. She will be in remand for some time now. The chargesheet will be filed within the next 10 days."
She underwent a medical test before being lodged in a rescue home run by the Woman and Child Welfare department.
Shweta reasoned for getting into sex racket, "I have made wrong choices in my career and I was out of money. I had to support my family and some other good causes. All doors were closed and some people encouraged me to get into prostitution to earn money. I was helpless and with no option left to choose (from), I got involved in this. I'm not the only one who faced this problem and there are several other heroines who have gone through this phase".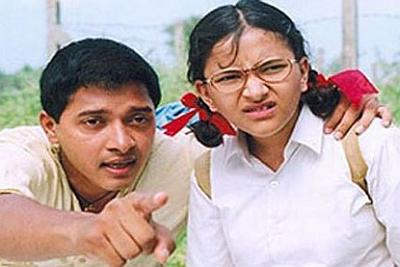 After Makdee, she featured in Hindi films and television soaps, including Nagesh Kukunoor's Iqbal and Ekta Kapoor's Kahani Ghar Ghar Ki. She then moved to Hyderabad to work in Telugu films.
Image: (Top) Actress Shweta Basu Prasad. (Below) The actress with Shreyas Talpade in a still fom Iqbal.