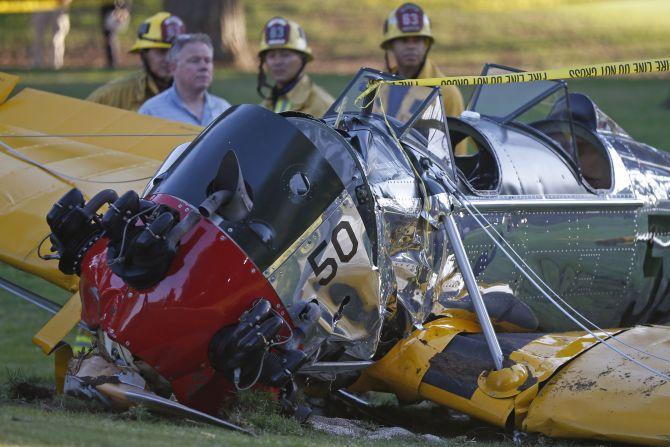 'Indiana Jones' star Harrison Ford underwent surgery to repair a broken ankle and pelvis following his death-defying plane crash in California.
The 72-year-old was in "fair to moderate condition" hours after crash-landing his World War II-era plane onto a golf course in the Los Angeles area, the Los Angeles Fire Department said.
Star Wars actor Ford, a long time aviator, reportedly veered off course to avoid crashing into houses.
Surgeons went to work on Ford's broken bones about four hours after the crash, a source close to the family told KTLA.
Ford also suffered multiple gashes to his head, causing witnesses at the scene to say they barely recognised the star as he was evacuated.
He also had cuts to his arms, but it was not clear if he suffered internal injuries, Los Angeles Assistant Fire Chief Pat Butler said.
"He wasn't a bloody mess," Butler said. "He was alert. He had good vitals".
Ford's injuries are "not life-threatening, and he is expected to make a full recovery," his spokeswoman Ina Treciokas said in a statement.
"Harrison was flying a WW2 vintage plane today which stalled upon takeoff. He had no other choice but to make an emergency landing, which he did safely. The injuries sustained are not life-threatening, and he is expected to make a full recovery," she said.
Ford's son Ben later tweeted, "At the hospital. Dad is ok. Battered, but ok! He is every bit the man you would think he is".
The actor started talking to Santa Monica Airport control tower moments after taking off. He reported an engine failure and requested an emergency return to the airport.
According to a witness who was playing golf when the crash happened, the plane did a "nose dive straight on the 8th hole tee box. .. Two doctors were there and they had a first aid box with them. He was conscious, talking a little -- a huge cut on his head".
The actor, who is set to reprise his role in the 'Blade Runner' sequel and will be seen in the next Star Wars sequel, survived a bad crash in 1999 where he escaped without injuries.
In 2000, he made an emergency landing. Ford broke his leg while shooting for Star Wars last year.
Image: An airplane sits on the ground after crash landing at Penmar Golf Course in Venice, Los Angeles. Photograph: Lucy Nicholson/Reuters