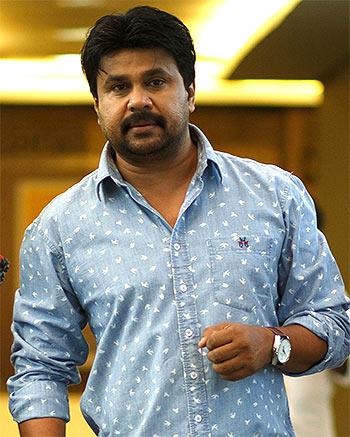 Popular Malayalam actor Dileep was on Monday arrested in connection with the abduction and assault case of a South Indian actress, police said.
Kerala Police chief Loknath Behra said Dileep was arrested based on evidence police gathered during the process of investigation into the case.
"Dileep has been arrested. We are questioning him. Arrest is a process of investigation," he told reporters.
He said no other person has been taken into custody in connection with the case.
Behera, however, refused to share further details.
Police said Dileep has been taken to Aluva police club for questioning.
Earlier, a top police official overseeing the investigation in the case, said that Dileep was arrested following his questioning for the second time in view of fresh revelations in the case.
He is accused of conspiracy behind the abduction and assault of the actress, an incident that sent shock waves in the state.
Police had questioned prime accused 'Pulsar' Suni, the key accused in the case, for allegedly making phone calls from jail to threaten and blackmail film industry people, including Dileep.
Police secured Dileep's custody on July 5 for five days from a magisterial court at nearby Kakanad.
Suni's second arrest had followed days after police recorded the statement of Dileep on his complaint alleging blackmail by a man, who claimed to be a friend of Suni.
While being taken to the court from the jail, Suni told reporters that names of the "sharks" involved in the conspiracy behind the abduction of the actress would soon be revealed.
Police had questioned Dileep and his director friend Nadirshah for nearly 13 hours on June 29 in view of Suni's revelations.
Police had then said that if necessary, they would be called again for questioning.
On April 20, Dileep had allegedly blackmail by a man, who claimed that he was a friend of 'Pulsar Suni' in the case.
Police had said they were also investigating the alleged conspiracy angle in the case.
The actor had earlier said that he filed a complaint with the Director General of Police along with evidence of blackmailing, allegedly with the knowledge of 'Pulsar' Suni.
Meanwhile, Leader of the Opposition in the Kerala Assembly, Ramesh Chennithala, said the role of actor-turned politicians, including Innocent, Ganesh Kumar and Mukesh should also be investigated.
P T Thomas, MLA, who had been following up the case from the beginning, said that the revelations by some prisoners, including one Jinson, who had shared cell with 'Pulsar' Suni in the Kakkanad district jail, helped police crack the conspiracy angle behind the case.
The actress, who has worked in Tamil and Telugu films, was abducted and allegedly molested inside her car for two hours by the accused, who had forced their way into the vehicle on February 17 night and later escaped in a busy area in Kochi.