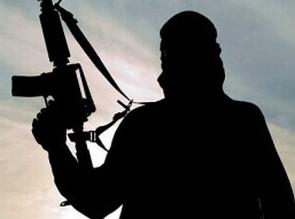 Four Students Islamic Movement of India operatives, who had escaped from a jail in Madhya Pradesh in 2013 and were allegedly involved in terror activities in several states, and the mother of one of the operatives were arrested in Rourkela on Wednesday.
The five were caught following an exchange of fire during an operation launched by the tactical unit of Odisha's Special Operation Group and the Telangana police.
Security forces seized five firearms, including three revolvers, and some ammunition from them, Director General of Police K B Singh said.
"The four are activists of the SIMI and were involved in terror activities in Madhya Pradesh, Andhra Pradesh, Tamil Nadu, Maharashtra and Uttar Pradesh. They were taking shelter in Rourkela using a false identity," Singh said.
Along with the four, the mother of one of them was also arrested. They were identified as Mehboob Khan, Zakhir Khan, Ahmed khan, Saliq and Najma (Mehboob's mother).
They had been staying in Rourkela for the past 4-5 months to collect money through dacoity for carrying out their operations. All the four hailed from Madhya Pradesh and were wanted by the National Investigation Agency, Singh said.
Singh said the services of the Tactical Unit were used successfully for the first time in the operation. The four were carrying fake identity proofs and Pan cards and their plan was to rob a bank in Chhattisgarh, Singh said.
These four activists were involved in 17 blasts in various places and killing of two policemen in Telangana and one in Madhya Pradesh.
They had also robbed Rs 48 lakh from a bank in Telangana. The NIA had announced Rs 10 lakh reward each on their heads, another police official said.
The operatives of this banned outfit escaped from a jail in MP's Khandwa district in 2013 and police teams of multiple states were looking for them since them. The arrested operatives were being interrogated by the police at a secret location.
Soon after the arrests, Singh met Chief Minister Naveen Patnaik at the secretariat and the home secretary to apprise them of the situation.