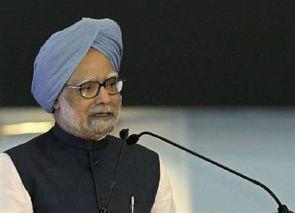 Favouring self-regulation by media, Prime Minister Manmohan Singh on Wednesday said some aberrations had crept into the "fiercely independent" journalism and it should itself find ways to remove them.
"Vibrant and fiercely independent media in our country is an asset for all of us. It has served us well in disseminating information, educating the public and keeping a critical eye on the work of the government," he said speaking at a function to mark 125 years of the Malayala Manorama group.
Singh said that while the media has grown in size and evolved, some "aberrations" have also crept in.
"But the good thing is that these aberrations are also being discussed and debated. It is for media itself to find ways and means to removing the deficiencies which it suffers from," he added.
Congratulating the Malayala Manorama group, he said it was a "shining" example of good journalism which had informed educated and entertained millions across the world.
Speaking on the occasion, Defence Minister A K Antony said the country was witnessing a "transparency revolution".
He said the media has aided the demand for transparency by vehemently demanding answers on behalf of citizens.
"There is need and urgency that this revolution percolates all institutions in the country," Antony said.
Chief Editor of Malayala Manorama Mammen Mathew noted that the group had been established in the pre-Independence era when it espoused social justice and nationalist causes.
He said the group lost its publishing license at that time but and got it back only after the country's freedom.
Jacob Mathew, Executive Editor of Malayala Manorama, said while the group traversed years and decades, its mandate of being the voice of responsible journalism and credibility, remained unchanged.
Image: Prime Minister Manmohan Singh