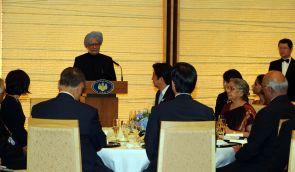 Japanese Prime Minister Shinzo Abe on Wednesday night played host to his 'dear friend and mentor' Manmohan Singh at his official residence in Tokyo.
Raising the toast for Dr Singh and his wife, Gurusharan Kaur, the Japanese prime minister said, "I think I have learnt more from you more than I am aware myself. You think, do you not, that history, not the daily headlines, is the only judge for the steps you have taken. I think I must do as you have done, in your hall mark calmness."
"We launched the Japan-India strategic and global partnership together, in 2006. You greeted me so warmly when I was in Delhi as prime minister last time, in the summer of 2007. Your friendship touched me most deeply."
Acknowledging Abe's remarks, Dr Singh said, "Each visit to Japan brings home to me the strength and vitality of our relationship, which is based on ageless bonds of admiration and affection between our people. It is not only our spiritual and cultural affinities that bring us together, but also our shared commitment to democracy and international peace. The success of our partnership is vital for the prosperity of our people and indispensible for a future of peace and stability in the Asia Pacific region."
Abe said that the confluence of two most deep-rooted democracies -- India from the west and Japan from the east -- must ensure that Asia should remain in peace and prosperity.
Overwhelmed by the generous hospitality of his Japanese counterpart, Dr Singh raised a toast for India-Japan Strategic and Global Partnership.
Image: Dr Manmohan Singh addressing a gathering at the dinner hosted by Prime Minister Shinzo Abe in Tokyo on Wednesday
Photograph courtesy: PIB