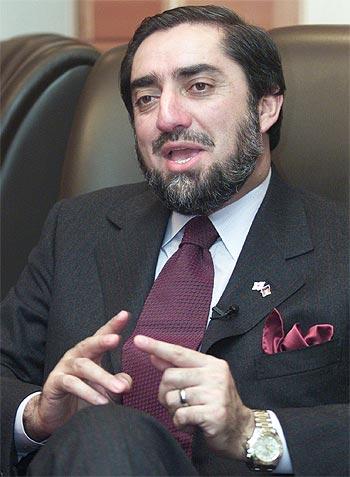 Afghan presidential run-off candidate Abdullah Abdullah on Wednesday alleged massive election fraud and demanded an immediate halt to vote-counting amid reports that his rival had a million-vote lead, plunging the war-torn country's first democratic transition of power into question.
"We suspend engagement with the (election) commission and we have asked our monitors to leave their offices. We are asking for the counting process to be stopped immediately," Abdullah told reporters.
Ballot boxes had been stuffed and the whole system was working to benefit his rival Ashraf Ghani, the former foreign minister said.
Abdullah, 53, said he had lost trust in the electoral authorities as important concerns he had raised over the election had been ignored.
He complained that there had been no clarification over what he had called inflated turnout figures -- and no explanation for the sacking of several thousand election workers after the first round.
A run-off vote to choose who replaces Hamid Karzai was held on June 14. The preliminary result is expected on July 2 and the final result on July 22.
None of the candidates polled more than 50 per cent of votes during the first round in April. Abdullah got 45 per cent of the votes while Ghani received 31.6 per cent, as per the final results, which came amid fraud allegations.
Abdullah on Tuesday said Ghani's apparent million-vote lead in the second round elections was due to massive fraud.
Based on initial reports received by Abdullah's staff, results from Saturday's vote put Ghani, an ex-World Bank economist in his mid-sixties, in the lead by close to a million votes, Afghan media reported.
"In which part of the country did the situation change so dramatically, the people changed their mind and then all of them came out and voted? Our rallies in the second round were more energetic and effective," Abdullah said.
Analysts fear allegations of fraud could lead to a lengthy struggle for power, threatening to derail attempts to transfer power democratically for the first time in Afghanistan's history.
"I have always maintained that the main rival is fraud," Abdullah, a former anti-Taliban resistance fighter, said.
Though Abdullah did not name Ghani in his accusation on Tuesday, his camp suggested Ghani's supporters were involved, as well as individuals connected to current President Karzai.
There was no immediate comment from Ghani on Abdullah's allegations.
Image: Abdullah Abdullah