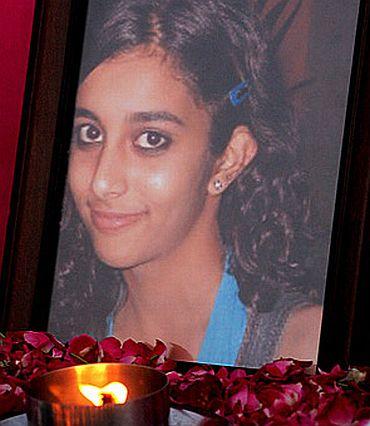 A Central Bureau of Investigation court on Tuesday reserved for November 25 the verdict in the sensational 2008 double murder case of teenager Aarushi and domestic help Hemraj in which her parents Rajesh and Nupur Talwar are accused.
Additional Sessions Judge Shyam Lal reserved the order after the defence completed its final arguments and the CBI submitted its rebuttal in the case, which has seen several twists and turns. The CBI maintained its stand that it was the dentist couple who had killed their teenaged daughter Aarushi and their servant as circumstantial evidence was against them. On the other hand, the defence lawyers alleged that Talwars had been framed in the case.
Trial in the Aarushi-Hemraj murder case began 15 months ago at Ghaziabad in Uttar Pradesh after the court rejected the closure report filed by the CBI.
Fourteen-year-old Aarushi was found murdered in her apartment in Noida on May 16, 2008. The next day, the body of Hemraj was discovered on the apartment's terrace. Rajesh and Nupur were in the house on the night the crime was committed. The allegations have been refuted by Talwars who have claimed innocence in the matter. They are presently out on bail.
The CBI had on Dec 29, 2010 filed it report for closing the case. Special Judicial Magistrate Preeti Mishra had on February 9, 2011 rejected the closure report and made the couple accused on charges of murder, destruction of evidence and common intention to commit the crime.
The investigation in the case was initially carried out by the Uttar Pradesh police, which had arrested Aarushi's father Rajesh on May 23, 2008. The probe was handed over to the CBI on May 29, 2008 and Rajesh was granted bail by the Ghaziabad court on July 11, 2008.
The CBI, after probing the murder for over two-and-half years, filed its closure report in the case in the Ghaziabad special CBI court, saying it had been unable to find out any evidence to prosecute the Talwars.
The trial court, however, rejected the CBI closure report, saying there was enough prima facie material in the agency's report to put the couple on trial for their alleged involvement in the twin murders and had issued summons to them to face trial. "In such a case where the incident has happened inside home, visible evidence cannot be ignored," it had said.
The Talwars had subsequently moved the Allahabad high court, which dismissed their pleas to quash the trial court summons and the proceedings initiated against them. The couple then approached the apex court, but was denied relief. On January 25, 2011, Rajesh was attacked by a youth with a meat cleaver on the Ghaziabad court premises.