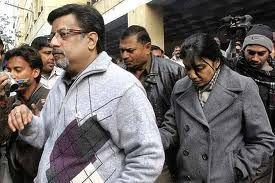 Concluding its arguments in the Aarushi murder case, the Central Bureau of Investigation on Thursday claimed that dentist couple Rajesh and Nupur Talwar "mislead" the investigators during the course of probe on different occasions and were involved in the destruction of evidence.
Special CBI prosecutor R K Saini told the Court of Additional Sessions Judge Shyam Lal that Rajesh did not recognise Hemraj's body and they also got outermost iron door of their apartment removed to mislead the investigation. "Talwars mislead the investigators during the course of investigation on different occasions. They were also involved in the destruction of evidence.
"By our arguments, charges of murder with common intention (Section 302/34) and destruction of evidence (Section 201/34) are proved on both the accused. Besides, Section 203 of IPC is also proved on Rajesh for registering wrong FIR at police station," Saini said.
The CBI lawyer also told the court that there was plywood partition between Aarushi and dentist couple's rooms and this partition had a polish. But, Talwars got this plywood partition whitewashed with colour matching other cemented walls of Aarushi's room.
"Talwars' conduct has been suspicious from the beginning of this case. For instance, when Noida Sector 20 station asked Rajesh about the identity of body, he did not recognise him (Hemraj) though persons present there said it was Hemraj. "As per post mortem examination report and statements of police officials, Hemraj's body was not in such condition that it could not be recognised," Saini told the court here.
Saini said that dentist couple "used retired Uttar Pradesh DSP K K Gautam as instrument in the case." The prosecution had earlier claimed that Gautam' friend and eye surgeon Sushil Choudhary was known to Rajesh Talwar's brother Dinesh Talwar.
Saini told the court today that on the morning of May 17, 2008, Choudhary called up Gautam and said Talwars' daughter had been murdered and "we should go there". "After that, Choudhary and Gautam went to Talwars' home," he said. "Gautam and Choudhary went to Talwars' home. Gautam was told there that Rajesh had gone to Haridwar, but after a few minutes they found Rajesh there which points finger on his role. "Gautam was also told that there could be possible weapon on the terrace.
On insisting, he called up the then Superintendent of Police (city) Mahesh Mishra for the search on terrace," said RK Sani.
Talwars knew "in advance" that there was Hemraj's body on the terrace and hatched plan to call Gautam on the pretext of getting Hemraj's body recovered from the terrace, the CBI lawyer claimed.
The prosecution said that a police team reached Talwars' home and unlocked terrace door and found Hemraj's body there. The whole episode shows that the former Noida DSP was used as instrument by the Talwars. The court fixed October 18 for the start of defence arguments.