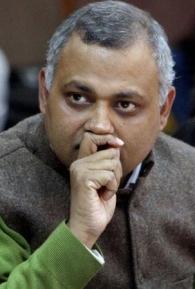 In fresh trouble, Aam Aadmi Party MLA Somnath Bharti has been booked for allegedly inciting a crowd to damage AIIMS' fence and misbehaving with the hospital's security personnel but the former Delhi minister has denied the charges.
The chief security officer of AIIMS gave a written complaint on September 9 stating that "Bharti provoked the mob to damage the fence of the hospital with JCB at Gautam Nagar Nallah road in order to give access to unauthorised persons inside AIIMS property and also misbehaved with security personnel" At around 9.45 AM, said a senior police officer today.
The medical examination of six security personnel was done and a case under IPC sections 147 (punishment for rioting), 148 (rioting, armed with deadly weapon), 186 (obstructing public servant in discharge of his public functions), 353 (assault or use of criminal force to deter a public servant from discharge of his duty) and 3/4 Prevention of Damage to Public Property Act has been registered at Hauz Khas police station, added the officer.
Meanwhile, reacting to the development, Bharti tweeted, "AIIMS is lying. They have been denying legitimate access to Gautam Nagar residents. AIIMS even refused to PWD meetings.
"Wherever common man will be troubled I will go. The allegation that residents dismantled the wall is a blatant lie. I will fight in court."
However, AIIMS authorities could not be immediately reached out to comment on the issue.
Bharti, who represents Malviya Nagar seat, has been mired in controversies. He was booked for allegedly obstructing public servants from discharging their duty during his purported midnight-raid when some African women were allegedly molested in 2014. He was also arrested last year after his wife accused him of domestic violence.
A number of legislators of Arvind Kejriwal-led ruling Aam Aadmi Party party have been booked by Delhi Police on various charges, prompting the AAP to allege that they were being targeted under "political vendetta".