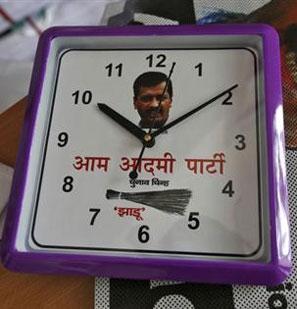 The Aam Aadmi Party on Thursday said it will contest over 350 Lok Sabha seats and vowed to take on tainted candidates and political leaders who have become "symbols" of corruption and criminalisation of politics.
The fledgling party, which made a stunning debut in the recent Delhi assembly polls, said it would contest elections against 14 Union ministers as well as A Raja allegedly involved in the 2G spectrum scam.
"We have received reports from our state conveners and looking at the response from different seats, it has been decided that the Aam Aadmi Party will contest more than 350 seats in the Lok Sabha elections," senior party leader and Political Affairs Committee member Sanjay Singh told media persons.
He was briefing on the issues discussed in the National Executive Committee meeting held here. The meeting, second in a month, assumes significance as the party discussed strategies ahead of Lok Sabha elections.
The party will also make "corruption" and "criminalisation of politics" as major issues.
"Corruption and criminalisation of politics are two broader issues on which the party will fight the Lok Sabha elections. The party will field candidates against leaders in different parties, who have become symbols of corruption and criminalisation of politics.
There are 162 members of Parliament with criminal cases registered against them. Of these, 73 MPs have cases related to heinous crimes. The party will try to field candidates against them," Singh added.
When asked whether the party would field candidates against ministers such as A Raja, he said the party would contest elections against 15 ministers "against whom there were serious charges and the former Union Minister is one of them".
Singh said that issues discussed in the NEC meeting on Thursday will be placed before National Council meeting, which is to be held on Friday, for ratification.
Issues related to amendments in the party Constitution will also be discussed in the National Council meeting, party leader Gopal Rai said.