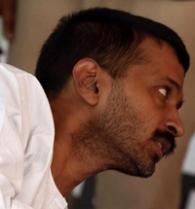 The Aam Aadmi Party, led by activist-turned-politician Arvind Kejriwal, on Saturday announced the first list of 11 candidates, which included his colleagues Manish Sisodia and Shazia Ilmi, for the Delhi assembly polls.
The candidates -- which include ex-servicemen, journalists, advocates, engineers, sportsperson and social workers -- were selected after a month-long process by the party's selection committee after an elaborate consultation with the members.
Sisodia will fight from Patparganj, Ilmi from R K Puram, Colonel (retired) Devendra Sehrawat from Bijwasan, Saurav Bharadwaj from Greater Kailash, Manoj Kumar from Kondali, Somnath Bharti from Malviya Nagar, Gulab Singh Yadav from Matiyala, Mukesh Kumar Dagar from Najafgarh, Somdutta Sharma from Sadar Bazaar, Santosh Kali from Seemapuri and Raju Dhingan from Trilokpuri.
The average age of the candidates is 32, and a total of 97 applications were received by the committee, Kejriwal said.
He said the candidates were selected by the Candidate Screening Committee co-chaired by Sisodia and Sanjay Singh.
The selection procedure included screening, interviewing and verifying about their criminal antecedents and popularity among locals.
The party selected its candidates after verifying their historical background to ensure that candidates don't have any criminal cases against them, they are honest and have a clean image in the locality and no two persons belong to the same family, Kejriwal said.
On May 24, AAP had issued a list of 44 probable candidates for 12 Delhi assembly election seats.