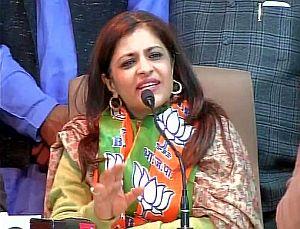 Taking a jibe at the Aam Aadmi Party following reports that senior members Yogendra Yadav and Prashant Bhushan have offered to opt out of the Political Affairs Committee, Bharatiya Janata Party leader Shazia Ilmi on Monday said the Arvind Kejriwal-led party lacks internal democracy.
"AAP lacks internal democracy. It is pretty much like any other party and it is very sad that senior leaders who have contributed to the party like Prashant Bhushan, Yogendra Yadav, Shanti Bhushan, Admiral L Ramdas who were actually the Lokpal of the party have to say this," said Ilmi.
"There are those who offer voice of reason and dissent and there are those who are just brought-in to say 'yes sir', 'no sir', and it is obvious that only 'yes' men are promoted in the party," she added.
The former AAP member also said that Delhi Chief Minister Arvind Kejriwal and his deputy Manish Sisodia are working against the party's interest.
"It is unfortunate that AAP has been reduced from a cause-based party to a cult, this is absolute dictatorship of Arvind Kejriwal camp," she said.
Senior AAP leader Admiral L Ramdas had earlier written a letter to Kejriwal as well as party members Yogendra Yadav and Prashant Bhushan, expressing concern over the growing divide and trust within the party.
Ramdas, in his letter, reportedly drew the attention of the founding members to the importance of 'internal unity' and appealed for a quick resolution.