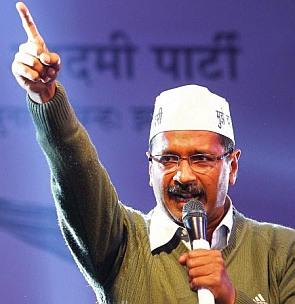 All 27 MLAs of the Aam Aadmi Party will meet President Pranab Mukherjee on Thursday with a request to dissolve the Delhi assembly, AAP National Convener Arvind Kejriwal said.
"All AAP MLAs meeting the President at 6.30 pm to request him to dissolve Delhi assembly n hold elections. (sic) BJP attempting horse trading in Delhi, desperately approaching our MLAs," Kejriwal tweeted.
He has also written a letter to Union Home Minister Rajnath Singh saying few of his partymen were trying to poach AAP MLAs.
"It is unfortunate that some of your men are indulging in horse-trading and trying to poach our MLAs," he wrote.

"If the Delhi BJP is really keen on conducting elections, then it should give it in writing to the Lt Governor about this so that election can take place at the earliest. The Delhi BJP should also convey this clearly in a hearing before the Supreme Court on July 4," he said in the letter.
AAP has been accusing the saffron party of poaching its MLAs and has also been demanding dissolution of the house.

Interestingly, an AAP MLA has lodged a complaint with Shalimar Bagh police station alleging threats from BJP and said that the saffron party was pressurising her to join its fold.
"Around 8.15 pm yesterday (Tuesday), two persons came to my office. One of them identified himself as Sanjay Paliwal and initially started bad-mouthing my party and leader Arvind Kejriwal," Shalimar Bagh MLA Bandana Kumari claimed.

"Then he asked me to join the BJP and in return he offered a ministerial berth and also an assurance to help contest re-election and meeting with Modi. I responded saying you have dialled a wrong number and I was not interested. To this he threatened me and my family with dire consequences if I spoke about the offer to anyone outside," she claimed.

Kumari said that after consulting Kejriwal, she lodged an FIR with Shalimar Bagh police station.
However, when contacted, Paliwal refuted the allegations and said that it was Kumari, who offered him to be a mediator. He added that he was an AAP volunteer.
"Bandana Kumari called me yesterday between 7-8 pm to her office and her husband received me. She said that a group of MLAs did not want to face elections and that I should act as a mediator between them and the BJP.

"When I refused, her husband was enraged and was turning violent, so I decided to leave the place," Paliwal said, claiming that he had been an AAP worker and helped the party in legal affairs.

"We have received a complaint but we have not registered an FIR as of now. We are trying to verify the facts," Additional DCP (North West) A Koan said.