The government on Tuesday termed as "misplaced" superstar Aamir Khan's comments on growing intolerance, saying such statements only bring disrepute to the country as well as Prime Minister Narendra Modi.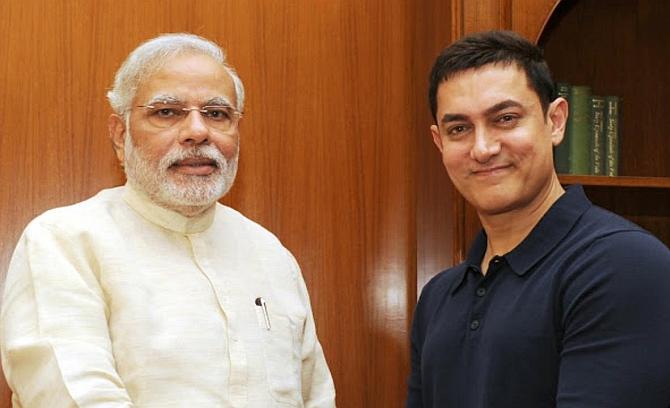 "His comments on intolerance is completely misplaced. Comments like this only bring the image of country and the Prime Minister Modi down," Union Minister of State for Home Kiren Rijiju told reporters on the sidelines of a function in New Delhi when asked to comment on Aamir Khan's statement on Monday at an award function in the national capital.
The 50-year-old actor had said he has been "alarmed" by a number of incidents and his wife Kiran Rao even suggested that they should probably leave the country.
Rijiju said communal incidents in the country has come down ever since the Modi government came to power in May 2014.
"Communal violence has come down since NDA came to power. There were less number of communal incidents," he said.
According to Home Ministry statistics, 86 people were killed till October this year in various communal violence incidents in comparison to 90 deaths in the corresponding period of 2014.
However, the total number of communal incidents till October witnessed a rise this year with 630 incidents being recorded as compared to 561 incidents in 2014.
In 2013, when the UPA was in power, the corresponding figure was 694 incidents, though that was largely on account of the Muzaffarnagar riots that claimed more than 60 lives.
As many as 1,899 people were injured in various communal violence till October 2015 in comparison to 1,688 people injured last year.
A total of 644 communal violence incidents took place in 2014, resulting in 95 deaths and injuries to 1,921 people.