Experts said many of the programmes started in the last one year have been dogged by poor implementation, something which the state seriously needs to answer as it faces a tough electoral battle in the months ahead. Sanjeeb Mukherjee reports.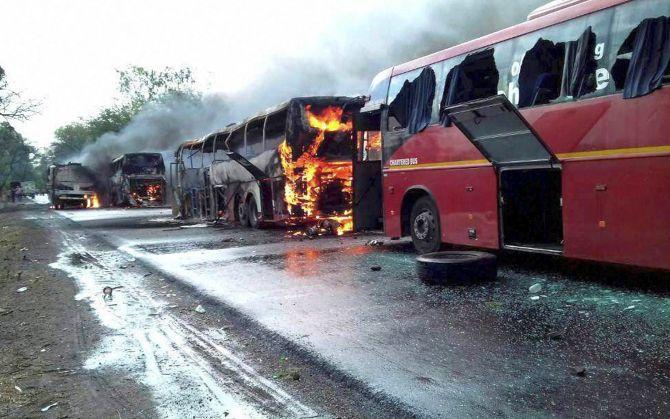 Despite the political heat to mark a year of the June 6 firing on farmers, experts cautioned that farmers' unrest will not subside unless basic issues related to marketing of farm produce and guaranteeing minimum income are addressed.
Political parties of all hues will assemble in Mandsaur district of Madhya Pradesh to observe a year of the firing.
However, the Madhya Pradesh government has launched several initiatives to hedge farmers against price risks and is willing to take more measures including a direct income support on the lines of Telangana and Karnataka.
Experts said many of the programmes started in the last one year have been dogged by poor implementation, something which the state seriously needs to answer as it faces a tough electoral battle in the months ahead.
"All the schemes announced by the government in the last one-year including Bhavantar are temporary measures without addressing the basic problem, which is a wide disparity between farm gate prices and the price paid by consumers. Unless this is bridged by eliminating middlemen, farmers won't get their due price," G S Kaushal, a former director of Madhya Pradesh state agriculture department, said.
Kaushal said garlic, which is one of main crops in the Malwa-Nimar region and the epicentre of last year's farmers' agitation, is selling around Rs 1-4 per kg, while in cities and towns, consumers are buying it for Rs 80-100 per kg.
"A state government appointed panel had fixed Rs 32 per kg as the minimum production cost of garlic, while the market realisation is just around Rs 1-4 per kg. In such a situation, how will the farmers survive," Kaushal asked.
To add to their woes, the entire mandi system collapsed under the weight of arrivals and also due to mismanagement even as the state government announced a massive procurement drive of commodities whose prices have dropped below minimum support price.
Data sourced from agmarket.nic.in shows that in one of the biggest mandis of the state in Indore, prices of most major commodities have slid in the last one year either due to bumper harvest or declining demand.
To provide a lasting solution to recurring instances of price fall, the state government in August 2017 launched the innovative Bhavantar Bhugtan Yojana (BBY) to provide a sort of assured income to farmer whose prices have dropped below the MSP.
But here, too, locals alleged that much benefit of the scheme was milked by the middlemen.
A working paper on BBY by Delhi-based think tank Indian Council for Research on International Economic Relations showed that the scheme had at best limited coverage and less than a quarter of the entire produce harvested by farmers of the state in kharif 2017 was compensated.
"It is also conceivable that market prices were depressed with no scheme in place. This could have been because of the small window when it was mandatory for all the produce to be sold in the mandis and also because of manipulative practices of traders and lower level bureaucracy," the ICRIER study said.
To supplement its claims, ICRIER said that average modal price in Madhya Pradesh for soybean was Rs 2,594 per quintal between October 16 and December 31, which was approximately 15 per cent lower than the announced MSP of Rs 3,050 per quintal.
For urad, the prevailing mandi modal price was Rs 2,601 per quintal between October 16 and December 22 in Madhya Pradesh. This was 52 per cent lower than the announced MSP of Rs 5,400 per quintal.
Clearly, Bhavantar had raised more questions than answers.
Kedar Sirohi, one of the main leaders behind last year's farmers' agitation and chairperson of Aam Kisan Union said that this year their call for ban on movement of fruits, vegetables and milk from villages to towns for 10 days starting from June 1-10 is getting overwhelming response from villagers.
"One unique feature of this year's agitation is women's farmers in big numbers are planning to join the ban," Sirohi said.
He said till now, around 500-700 small and big public meetings have been held in the state soliciting support for the agitation.
President of Rashtriya Kisan Mazdoor Sangh, Shivkumar Sharma is also actively canvassing in support of the agitation.
The opposition Congress has already announced a big agitation plan from Mandsaur on June 6, which is expected to be addressed by its president Rahul Gandhi, while state Chief Minister Shivraj Singh Chouhan along with almost everyone in his entire cabinet is planning to camp in Mandsaur from June 1 to convince farmers to snub the Congress.
The local administration has started imposing strict curbs on movement of unauthorised persons fearing a repeat of last year's violence.
According to some reports, it has even directed locals in Pipliyamandi area of Mandsaur to fill bonds that they won't participate in Congress's agitation.
"It's not that MP hasn't done anything for farmers. Its mandi system is better than many states. For 10 consecutive years, it has clocked a growth rate of over 9 per cent in agriculture, but it hasn't concentrated much on building a robust processing and storage infrastructure, which is hurting it more now," said Shiraz Hussain, former agriculture secretary and visiting senior fellow at ICRIER.