Newly appointed Rajasthan Chief Minister Vasundhara Raje has taken yet another leaf out of Arvind Kejriwal's book.

After saying no the CM's bungalow, she too has decided to hold 'janata darbars'. And like her Delhi counterpart's first public meet, Raje's experiment too has not met much success.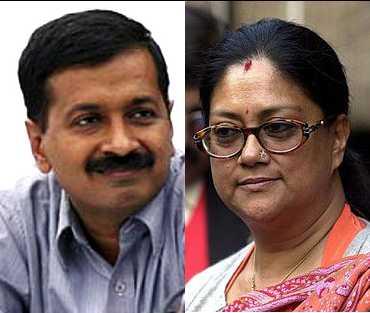 If a public hearing called by the Aam Aadmi Party government in Delhi attracted controversy because it lacked management, the Bhartiya Janata Party government in Jaipur too is receiving flak for holding meets at the party office.

Taking a cue from her Delhi counterpart Arvind Kejriwal, Rajasthan Chief Minister Vasundhara Raje decided to hold 'janata darbars'. But while the former attempted to hold the meet on the roads of Delhi amid chaos, Raje told her ministers to conduct the public meetings at her party office.

As per Raje's directives, the gatherings will take place in the party office for six days in a week. Every day different ministers will take part in the hearing.

However, the new BJP government's move has received severe criticism from the opposition Congress. State president Rajasthan Pradesh Congress Committee Dr Chandrabhan asked, "How could public hearings take place in a party office? While the party office belongs to one particular group, a minister belongs to all state residents."

"For this purpose, a secretariat has been made. What will be the use of the government and public setups if hearings will be held in party offices," he questioned further.
The AAP leaders vehemently slammed Raje's move. "It's an insult to democracy. How can a non-political person visit a party office? It is like forcing the common man to reach out to a particular organisation. 'Janata darbars' should be held in public places; we strongly condemn such decisions," Dr Rakesh Parikh, secretary AAP, Rajasthan told rediff.com.
However, BJP spokesperson Jyoti Kiran termed it as an amazing experiment, "The BJP is a cadre-based party and it will give them a proper opportunity to solve public issues through their ministers."

Image: Delhi CM Arvind Kejriwal and his Rajashthan counterpart Vasundhara Raje