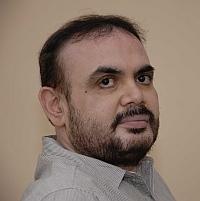 The Leucoderma Awareness Movement, a Chennai-based non-profit, non-government organisation that has been striving to eradicate the stigma attached to this skin condition, is organising a mass 'swayamvaram' for affected people to choose their partners at Tiruchirapalli's National College on January 27.
K Umapathy, secretary, LAM-India, feels that the stigma is so deep-rooted in people that irrespective of their educational qualification or economic status of the affected people, marriage for them still remains a question mark.
"People suffering from leucoderma are hesitant to get married to someone with the same disorder. Many fear that it is hereditary. People need to be aware that only 12 per cent of the cases show a family history. To address this problem, LAM will be conducting a mass 'swayamvaram' at Tiruchirapalli's National College on January 27," he told this correspondent.
"We believe that by getting married into a family fully aware of leucoderma, the bride or groom can be free from the fear of ill-treatment by their relatives. We have received many applications and are expecting more after January 14, as people do not consider this month auspicious. This is the first time we are attempting something of this magnitude and we hope that it will be successful," he adds.
Umapathy, who himself is affected by leucoderma, has been associated with the LAM since its inception in 1996.
"People stare at you all the time, not realising how uncomfortable you are, they do not want to sit next to you while travelling in a bus or train, and some of them pass such hurtful remarks that you just break down and cry. And all this for a skin disorder that is neither contagious nor fatal. In fact, this disorder does not cause any health problems at all. Leucoderma or vitiligo is a condition characterised by white patches on the skin all over the body, "explains K Umapathy, secretary, LAM-India.
"This happens when the immune system mistakenly attacks and destroys the melanocytes (the cells which impart colour to the skin), thus resulting in the formation of irregular white patches throughout the body," he added.
"We live in a world that places great importance on beauty and complexion, so something like leucoderma is absolutely terrifying for anyone. Many of them refuse to come out of their homes, preferring to stay locked up. They are so afraid to come out and face society. As the disease spreads, they become more and more self-conscious and dejected, and gradually this turns into depression and in some cases it also leads to suicidal tendencies. We not only have to counsel the patient, but the entire family. The mental agony which these people go through is just as painful as any physical suffering," he adds.
Until 2010 December, leucoderma was called 'venkustam' or 'venkuttam', both meaning 'white leprosy' in Tamil. On December 27, 2010, the Tamil Nadu government issued a landmark order directing the authorities concerned to hereafter refer to leucoderma as 'venpulligal', meaning 'white spots'. And this too came about only after the continuous and tireless efforts by the members of the LAM."
"LAM-India does not accept sponsorship in the form of money," states Umapathy. 
"Even for this mega event that we are planning, we have not accepted funds from anyone. Trichy's National College has offered us the use of its premises, some sponsors have agreed to supply drinking water, and still others are taking care of the lunch and so on. We do not even have a bank account," he says.
"We do not believe in owning posh air-conditioned offices with a receptionist, or travelling in expensive cars. Some of the members themselves take care of the rent and other day-to-day expenses. We have members from all walks of life. While conducting events, people come forward to sponsor pamphlets or banners, etc, once when we organised a human chain at Chennai's Marina Beach, the Life Insurance Corporation of India sponsored T-Shirts for the occasion.  We are very simple-minded people who believe in simple living and are dedicated to our work," concludes Umapathy.
Those seeking a life partner at the swayamvaram have to register in advance. Phone numbers for registration are 044-2226 5507, 044-6538 1157